Book Memories 2016
Well 2016 has been quite the year for books! Book memories have been numerous and so I just had to mention a few here. There's a top ten of books already on the Booktrail but there's a few more that deserve a mention for their lovely covers as well as what's inside..
Books which more than evoke the destination in which they are set….
Set in Banff, Canada. Oh it was the snow and the isolated log cabin which attracted me with this one. The cover really sets it off with that cool blue and the woman walking towards the scene of Christmas comfort. I was dying to go there and immediately wanted to ski and well, not so much ski, but to wrap up in a comfort blanket, enjoy being snowed in beside a log fire and read a book, cut off from the outside world. Of course in this novel the woman in the story is cut off for all the wrong reasons and manages to be contacted by someone really out of this world so not everything turns out as festive as the cover. Would still like to go to that log cabin though.
If I ever get to Prague this is how I imagine it to look and feel. The cover is just gorgeous and draws you in. The gothic nature of the buildings, the history and the markets at Christmas! If you believe the story, there's also a lot of magic and romantic promise in this city and you  don't know just who you are going to meet. Prague is a city meant for wonder, exploring and new beginnings and I just loved how Isabelle evoked this city, its magic and history in one swish of the pen. One of the most vivid books I've read in a while.
Wow. I read this slowly as it can not be rushed. It's a gradual reveal of a time when women were literally servants to men and where one was sold  to the highest bidder to ensure the line and heritage of her family. This is based on a true story and the historical research is astounding. Now history lessons should be like this – immersive, all encompassing and utterly fascinating. I want to learn Japanese now. And go to Japan of course.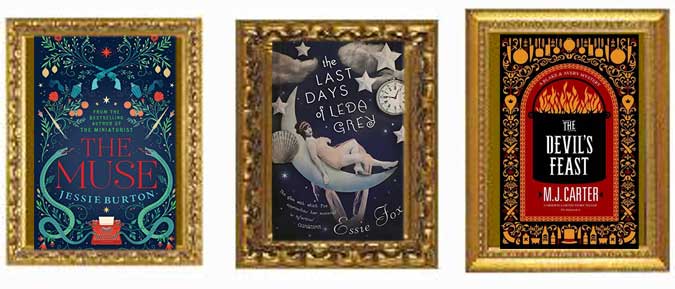 Books which deserve to be in an art gallery
What can I say – The Muse is about an art gallery and quite frankly it deserves to be in one itself. This cover, like the Miniaturist before it, is a work of art and I just hope the illustrators get a medal for this and it's lovely. So artistic, represents the novel totally and utterly. The level of detail here is astounding and the colours pop from the page.
When you see a few of these in a bookshop, the effect is amazing. Don't forget the story of course – a multilayered mystery of a painting which has many secrets contained within
This story is about the world of Silent Film and there could not be a more stunning cover which just sums up everything about that world. The detail again is amazing and deserves to be a full size portrait. The woman lounging on the moon, the pocket watch, the floating starts, the general magic about it all. Seriously – go and buy this book – it's an experience.
I love a good historical mystery and this one is a favourite of 2016. The artwork again is astounding and there are clues to the plot with the various symbols on the cover (no spoilers) and the story is set in London and reveals Alexis Soyer, the celebrity chef of his day. This book makes you want to eat, in huge quanties and to be honest, I really hope to eat like this over the festive period.
And finally…….