WOTS The Clay Girl all about?
Heather Tucker is one of the great featured writers in this year's WOTS Toronto – so before the tents go up and the books come out, I grabbed her for a chat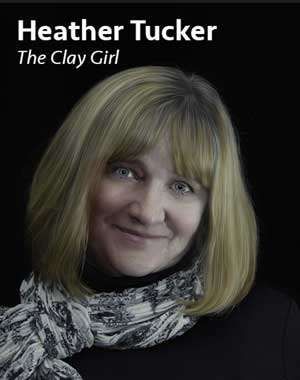 What does it mean to feature in WOTS this year?
It's such an honour to participate in this vibrant literary event. As a reader, I've loved WOTS, and now, being invited as a writer is astonishing. I am grateful, so grateful, to be a featured author and for The Clay Girl to be a book club choice.
Where will you be hosting your event?
Harbourfront Centre, Toronto. The Great Books Marquee, Sunday Sept 25, 2:15 – 3:00
I will be sharing the stage with Adwoa Badoe for a session called Growing Up is Hard to Do. Certainly a fitting title for our novels.
Could you tell us a little about your book?
Hariet Appleton is eight years old, the littlest of six sisters, scattered among relatives after their world explodes. She is sent to Nova Scotia to stay with two aunts, and she's heard that these ladies eat little girls. With her on the journey is her companion, Jasper, an imaginary seahorse. In Pleasant Cove she finds herself safe and loved for the first time in her life, and she discovers her real name hidden inside Hariet.
As the '60s ramp up in Toronto, Ari is torn from her aunts and forced back to her twisted mother and fractured sisters. Her new stepfather Len offers hope, but as Ari grows to adore him, her mother moves in with the brutal Dick Irwin.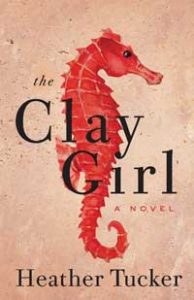 Through the sexual revolution and drug culture of the 1960s, Ari struggles with her father's legacy and her mother's addictions. She spins through a chaotic decade of loss and love, the devilish and divine, with wit, tenacity, and the astonishing balance unique to seahorses.
It is a story of a young girl, a clay girl, molded by tragedy, kindness, cruelty, and family — both the one she's born into and the one she creates. It is a tale of a little girl who survives — more, thrives — through the creative power of imagination and the everyday heroes she meets on her journey.
Why did you want to write this story?
Hope that lingers long after I close a book is, for me, the best part of a story. I love hero tales: stories where characters conquer mountains, overcome hardships and emerge stronger and wiser. I wanted to tell a story where, despite the circumstances, readers are left feeling hope, both for the characters and for themselves.
That sums up what I wanted, but the big "want" came from the story. This quirky little girl, alone on a train with nothing in her pocket but a seahorse and fifty cents to buy new underwear, demanded my attention and I couldn't focus on anything else until I got her down on paper. I knew Ari Appleton was going to take me on a hell of a journey, but her optimism was so alluring I had to follow.

How important is #Canlit to you?
I'm a global reader. I love Barbara Kingsolver, Chinua Achebe, Tim Winton, Kate Atkinson and many others. And I'm a varied reader: fiction, poetry, philosophy, biography…  Words connect us, art connects us.
So, that being said, imagine what it's like to be Canadian, living in the heart of a global mentality — diverse, colourful, eclectic — with writers like Wayson Choy, Miriam Toews, Michael Ondaatje, Heather O'Neill, Lawrence Hill, Camilla Gibb, Emma Donoghue, Ami McKay and, and, and . . . Storytelling is universal, but Canlit has a unique wit and edge that, to me, is simply irresistible and inspiring.
Favourite place in Toronto
Lake Ontario is my touchstone. My only childhood memory of connecting with my dad, just him and me, is a rained-out fishing adventure at Balmy Beach. My high school was close to the Scarborough Bluffs, so there were many rambles there, finding and losing myself. The first "I love you" from a boy was on that windswept bluff. My first date with my husband of 37 years was a long moonlit stroll along the boardwalk. And now, though a little east of Toronto, but still living near the same shore, I greet most mornings watching graceful blue herons feeding as I walk through the sunrise.
Favourite place in Cape Breton
The music, art, people, and breathtaking scenery around the Cabot Trail make it difficult to pick a favourite place, but I will say Cheticamp because of this memory. I'm offshore, looking back at the colourful harbour, a pod of pilot whales play around the Zodiac, threatening to tip us as they dive under, surfacing so close they invite us to touch. Our laughter tangles with the whale music and, despite the past and whatever is ahead, in that moment I know I'm the luckiest person on the planet.
Favourite dish at the Riverboat Cafe or the Goof diner?
The diner is known in the Beaches area as the "GooF". The d in the sign was burned out for years and the F from food appeared to complete the word. I had my first taste of Asian food at the GooF — an egg roll, over forty years ago. Last year I had some delicious Asian Fusion there.
The Riverboat made a great sandwich, but if I had the forty cents I went for the apple strudel. But you didn't go to the Riverboat for food. People lined up for the feast of music — Gordon Lightfoot, Joni Mitchell, Neil Young, Simon & Garfunkel, James Taylor…

So, with that can I suggest a visit to WOTS, followed by lunch at the Riverboat or the Goof (via Heather's recommendations) and then back to WOTS to see Heather on stage in the afternoon. WOT a perfect day. Thanks Heather for chatting! And head here to see the book and its locations – BOOKTRAIL  THE CLAY GIRL