On Sunset Lake with Tasmina Perry
It's not every day you get to sit with the lovely Tasmina Perry. When she sends you over an invitation for tea, made on home made paper, scented with fragrance and promising home made Guinness Chocolate cake, who am I to refuse!? When I meet her, she tells me she not only made this lovely homemade paper but also the fragrance on it, AND she made the Guinness chocolate cake. Having read The House on Sunset Lake and The Last Kiss Goodbye,  I didn't think I could love Tasmina Perry any more than I did, but I was wrong!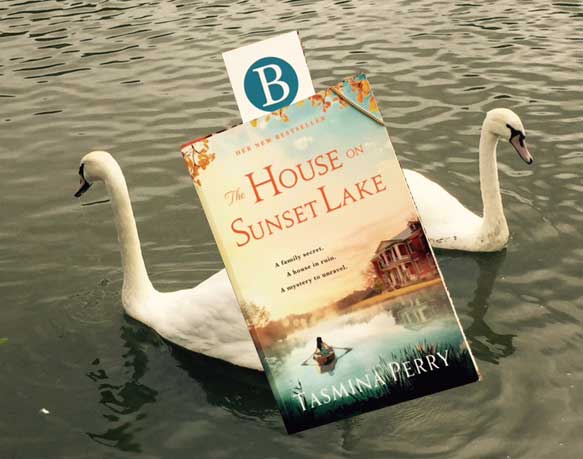 What inspired the setting of Casa D'Or?
I've always been fascinated by big old houses and the stories behind them. Ever since I read Midnight in the Garden of Good and Evil I've also wanted to set a book in Savannah. The historical district is atmospheric, with all that the Spanish Moss and 19th century architecture. It's supposed to be the most haunted city in the USA too which gives it an added frisson!
Did you go to Savannah for research purposes?
Yes I did! I visited lots of big houses in America's South to get a real flavour for them and the end result– Casa D'or  – is a mash-up of all of them. I was most influenced by Wormsloe, which is actually on the Isle of Hope in Savannah – the main house isn't there any more but it has an exquisite drive lined with Live Oak trees. I also loved Ca D'Zan in Sarasota which is glorious and eccentric and the Boone Hall plantation just outside Charleston. I had a very memorable birthday last year exploring the grounds on a tractor!

Can you give us a short tour of what we should see in Savannah in order to experience your novel for real?
Savannah has real old school Southern charm but there's an arty, hipster edge to it that I loved. My favourites places were Leopold's Ice Cream parlour and the Lucas Theatre where I watched Dirty Dancing at  a Crazy for Swayze weekend. I stayed at the Marshall Hotel which has an impossibly romantic balcony and free iced-tea in reception.
Jim is in the area scouting it out for the possibility of having a hotel there. Have you ever stayed in such a place yourself?
I stayed at the Wentworth Mansion in Charleston whilst I was researching plantation houses in the area. It was one of the most fabulous hotels I have ever stayed in. (It's so good apparently Reece Witherspoon and Ryan Phillippe had their wedding night there!) It feels like a Deep South mansion where you are staying as guests of the owners which was actually great to experience as I was writing a book about a grand Deep South home.
Jennifer's story is both mysterious and heartbreaking. What made you sad to write and did she surprise you when writing the character?
Jennifer was a rewarding character to write about. As both a twenty-something and a forty-something she had a perfect life on the exterior but underneath defied her feelings by trying to do the right thing for others. I was constantly rooting for her and had to give her a happy ending!
Would you love to return to a dilapidated building yourself and explore it for real as the characters did in the novel? Why?
I was brought up in dilapidated old houses. Nothing as grand as Casa D'or but my dad was very keen on buying run down old properties and doing them up, so the family home was a bit of a wreck for half the time.
There is something very rewarding about bringing beautiful old houses back to life. One day I'd love to renovate an old farm or barn myself.
What do you do when not writing? What is your writing desk like?
I love doing courses! In the past month I've been on a soap making course, a handmade paper making course, a candle making course. Writing books is creative but it's work so I like doing other creative things that are not work.
I do a lot of writing whilst I am travelling. I am particualrly motivated if I have a view of the sea! My study at home is full of books and notebooks stuffed with ideas so I often write at the dining table.
What is at the top of your TBR pile?
I've just received the new one by my friend Stella Newman – Seven Steps to Happiness. I love her writing.
From all the locations you've written about you can visit one and take three of your characters from any one of your novels. Who would you take and where would you go?
Cassandra from Guilty Pleasures was fabulous in a naughty way. I also quite fancy Alex from Kiss Heaven Goodbye and Jim from the House on Sunset Lake.  And we'd all go to Angel Cay in the Carribean (the private island in Kiss Heaven Goodbye).
If you invited 5 writers living or dead to a dinner party, who would you invite?
Nora Ephron was a brilliant writer and I loved the breadth of her career. I wish I'd have met her. Bill Bryson could come although he sounded a bit grumpy in his last book. Nancy Mitford, Oscar Wilde and David Niven could come too – David Niven is more of an actor than a writer but his memoirs show he'd be an amazing raconteur to have at a dinner party. Can you imagine all that old school Hollywood gossip!
Talking of Hollywood gossip, more Guinness cake has arrived so the who knows where the conversation will end up. Tasmina has just presented me with some lovely homemade soap. What a lovely lady! That might be because I now have chocolate all over my face but I would like to think it was intended as a gift. Speak soon Tasmina and look forward to your next book. Congratulations with The House on Sunset Lake!
Booktrail Boarding Pass Information: Tasmina Perry
Twitter: @tasminaperry         Facebook: /officialtasminaperry          Web: tasminaperry.com