#Authorsonlocation – Loire Valley – Helen Pollard
Helen Pollard talks travels in France…We're off to Pierre-la-Fontaine, deep in the heart of the Loire Valley…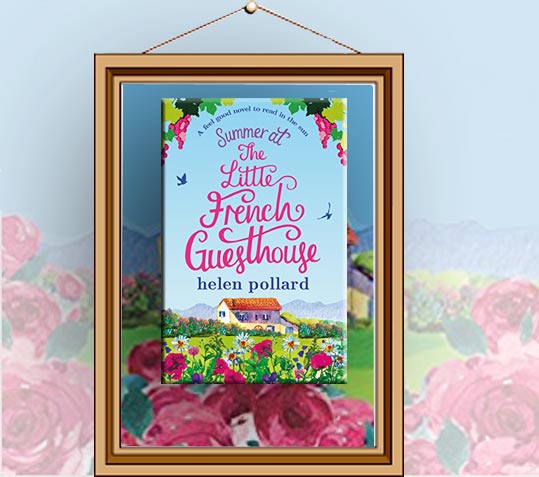 The setting….
I had the opening scene for the first book in the La Cour des Roses series, The Little French Guesthouse, in my mind for years, but I wasn't writing at the time (young family, no time, too tired!) Then, one summer, on holiday in a gîte in France, I suddenly thought, 'This is it! This is where that scene takes place!' Once I could picture the setting in my mind, I was desperate to start writing again. I built La Cour des Roses as an imaginary place, so I could have it exactly how I wanted it, but that holiday was the basis of the place. Pierre-la-Fontaine, the nearby town in the book, is also imaginary, but it's an amalgamation of many of the towns we passed through in the Loire region. As for actual location, a couple of miles outside the real town of Doué-la-Fontaine is more or less where La Cour des Roses would be.
Let's chat Pierre-la-Fontaine!!!
Doue-la-Fontaine is one of the models for the imaginary town of Pierre-la-Fontaine in all the Little French Guesthouse books, and in about the right location. The zoo at Doué is where Alain and Emmy first kissed in Book 1, and it plays a minor role in Book 3. It's great fun! The Troglodyte village at Rochemenier fires the imagination of Alain's niece and nephew on a visit there in Book 3.
The magnificent château at Chenonceau and the town of Saumur are both places that Emmy visited in Book 2 to get a taste of the region she now calls home. And when Emmy's parents visited in Book 1, she took them to Montreuil-Bellay and Chinon, both overlooked by châteaux.
France travelling tips?
My favourite regions are Normandy, Brittany and the Loire. As for accommodation, for years we used to camp on the many excellent sites over there, then later we began staying in gîtes we found on the internet. I don't have a particular favourite, and not all are still available anyway.
If you really did build the hotel in your book, which characters from other books would work as chamber maid, cleaner, general dogs body etc?
Somebody recently told me that the cleaner in my books, Madame Dupont, reminded them of the cleaner in Gerald Durrell's Corfu books. It would be fantastic to have a Jeeves type working there, but I'm afraid the place isn't grand enough for anyone out of P.G. Wodehouse's world! As for a general dogsbody, a hunky young man willing to do anything asked of him would fit the bill, but I'm struggling to think of a specific character, as of course I never read that kind of book …  😉
Favourite French food and drink
I find it hard to resist a tarte au citron, a proper French croissant or pain aux raisins; and mussels in white wine with French bread are hard to beat. Any light white wine, very chilled, would suit me, and if I'm on soft drinks, then grenadine is my go-to.
Thanks Helen! So lovely to chat with you and thanks for the free cake! xxx