BookTrail Advent – Book Queen
There is one book Queen that I immediately knew just had to be on #BookTrailAdvent and she was kind enough to drop in, down the chimney here and bring a selection of festive Christmas reads…plus Christmas cake….
What is your favourite novel set at Xmas time or somewhere where there is snow…
One of my favourites is Eowyn Ivey's The Snow Child (Headline). Set in 1920s Alaska, it's about a childless couple, living in the wilderness, who build a child out of snow. The next day it has disappeared but they glimpse a mysterious young girl in the woods who seems to have come from nowhere. It's an enchanting moving story.
Favourite thing about being a bookworm at Xmas
Because of my job as books editor of Woman & Home, nobody gives me books at Christmas (Booktrail: Oh no!) but I do have the pleasure of giving them. Some of my family are voracious readers so it's great to be able to add to their reading piles. As for myself, I love being in front of the fire with a new novel and the great thing about Christmas is, once the family's left, there are fewer interruptions than at any other time of year.
How do you celebrate Christmas?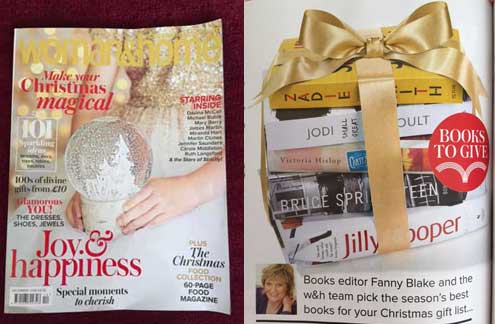 We'll be spending it all together this year. My sons will be with us on Christmas Eve and we'll be joined on Christmas Day by my sister and her family and my mother. They usually arrive at about 5 for drinks and presents and then we have Christmas dinner, turkey and all the rest, followed by rather drunken and increasingly hysterical games. On Boxing Day, my husband's family will come for lunch. The day after that, I'll collapse.

What would your favourite literary characters be up to at Christmas and where would they be?
I like the idea of Miss Jean Brodie (The Pride of Miss Jean Brodie by Muriel Spark) abandoning a grey chilly Edinburgh for the delights of a Christmas in Seville. Or perhaps Mrs Bennett (Pride and Prejudice by Jane Austen) has been bad with her nerves and her family has packed her off to a cousin in Cornwall. And perhaps we could send Logan Mountstuart (Any Human Heart by William Boyd) off to a Loire chateau for the duration where he can work his way through the winelist.
A favourite novel you always read or a genre you like reading with a wine by the fire?
I don't have a novel that I read over and over again but I'm looking forward to reading Dorothy Whipple's Someone at a Distance (Persephone) this Christmas. So many people have recommended her books to me and I'm told this is the one to start with.
What book are you going to be giving?
I'm going to give The Gustav Sonata by Rose Tremain (Vintage) – It's a perfect, elegant, understated novel that has really stayed with me. And I think I'll add My Name is Lucy Barton by Elizabeth Strout (Penguin). I love her dry wit, her lack of sentimentality and exquisite command of the language.

Which of your books would you give for a keen booktrailer at Christmas ?
I'd give House of Dreams which is set in the south of Spain, in the mountains that surround the white hilltop town of Gaucín.
What has been a highlight of being the Books Editor and writer this year and what are you looking forward to next year?
This year, it's been interviewing Clare Balding at the Woman & Home readers Christmas lunch, celebrating her first children's book, The Racehorse who Wouldn't Gallop (Puffin). Next year, I'm just looking forward to continuing doing the same ie reading and choosing lots of good books to recommend. As for books coming next year, watch out for Little Deaths by Emma Flint (Picador), A Dangerous Crossing by Rachel Rhys (Doubleday) and See What I have Done by Sarah Schmidt (Headline)
Thanks you Fanny! I read your column each month in Women and Home magazine so it's felt like a personal recommendation service for Christmas! Read and Visit Fanny's books here