#Authorson location: Daisy James
Daisy James has the perfect booktrail and chat about Cornwall today – perfect for a weekend break  or any time really! – Who doesn't love sampling the delights of Cornwall with all its charms and foodie treats. AND it's a trail in a camper van – what more could you want!??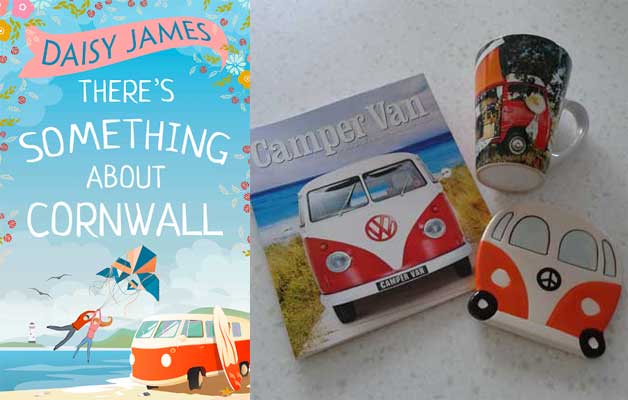 This story takes you around cornwall in a Camper van with a hunky young man and a food photographer with an eye for the tastiest treats and the most stunning countryside and coastline! Emilie's only gone to Cornwall as her awful ex-boyfriend has nabbed her chance to go to Venice but Cornwall soon starts to open her eyes to a whole new world.  There 's Cornish charm a plenty and a journey around many locations in an orange camper van…did I mention a camper van!??
Why did you choose Cornwall?
Location is always very important to me when I'm writing. It's almost as though it's another character that requires just as much attention, just as much crafting, as any other. When I began researching my fourth book, I wanted my characters to have a fabulous backdrop for their story, so it had to be Cornwall. The scenery is so beautiful and diverse, not to mention the fact that the sun always seems to be shining. There's Something About Cornwall follows Emilie Roberts, a food photographer, who takes a culinary road trip around the whole county as she works on a photoshoot for a celebrity TV chef working on her next cookery book. This meant I could explore the whole of Cornwall, not simply one part, and I have to confess I thoroughly enjoyed the research.
Daisy James' Cornwall…
Emilie's epic journey starts off in Padstow where she meets Matt at a beach party. He becomes a last-minute replacement driver for an orange-and-cream campervan they've nicknamed The Satsuma Splittie. For some reason, their transport just had to be a vintage campervan. It seems to match the carefree vibe of windswept holidays and freedom from the daily struggle to five o'clock!
During my research, I was amazed to discover that vineyards flourish on south-facing slopes and that fabulous white and rosé wine is produced in and around St Austell. I just had to include a scene where Emilie and Matt enjoy a tour and a tasting. Another surprise was finding out that Cornwall is also the only place in England that grows tea – Tregothnan Tea is cultivated near Truro. It offers a whole new meaning to the label English Breakfast tea!
Of course, one of the things Cornwall is famous for is the production of cider from the apples grown in the numerous orchards around the county. So, I had to include a scene where Emilie and matt visit an apple orchard where Emilie photographs the Cornish Apple and Caramel Loaf, but they also indulge in a few pints of the local Scrumpy.
I also came across the Southwestern Distillery in Wadebridge, run by Tarquin Leadbetter, which produces not only Cornish Gin but also Cornish Pastis. The pastis is a modern take on the classic French aperitif and the first of its kind created in the UK. It is made with gorse flowers foraged from the Atlantic clifftops and fresh orange zest finished off with a touch of liquorice root. Tarquin also grows his own Devon violets for use in his Tarquin's Gin.
St Ives
And lastly, no road trip round Cornwall would be complete without a stop-off in St Ives where Emilie and Matt have a day off from the food photography to indulge in one of Matt's passions – watersports.
For me, Cornwall is the epitome of carefree, sunshine-filled holidays where as children we could run free across the windswept dunes, eat sand-encrusted sandwiches and shelter from the rain under a carefully constructed windbreak. Funnily enough, I never remember the cold of paddling in the sea!
Where I travel to when I read
Funny you should ask this question! My favourite genre to read is travel memoir. I love reading about those intrepid travellers who take on arduous journeys to different parts of the world. I loved Anne Mustoe's A Bike Ride – twelve thousand miles around the world on a bike! I also enjoyed Tuk-Tuk to the Road by Antonia Bolingbroke-Kent and Jo Huxster – a record of their epic journey in a pink tuk-tuk from Thailand to London! Amazing! I also love all those books about adventurers who buy a tumbled down old shack in sunshine-filled climes and their stories of grappling with the language and recalcitrant builders. I'm currently reading It's All Greek to Me by John Mole and craving a trip to Evia!
I hope readers will enjoy escaping to our southernmost county when they read There's Something About Cornwall.
For a chance to win a book on the history of the much-loved, iconic camper van, a mug and a coaster, just follow Daisy James and retweet her pinned tweet. The prize will be drawn on 31st March 2017 (UK only).
With many thanks for stopping by in your very own campervan Daisy!
Susan Booktrailer
Twitter: @daisyjamesbooks  Facebook: daisyjamesbooks/