Trees in Books for National Tree Week
Tree Week via books for Travel Tuesday and National Tree Week!
Trees play an important role in the book world – and not in the fact that they surrender their souls to provide your reading material- they have many a starring role in a novel or two as well….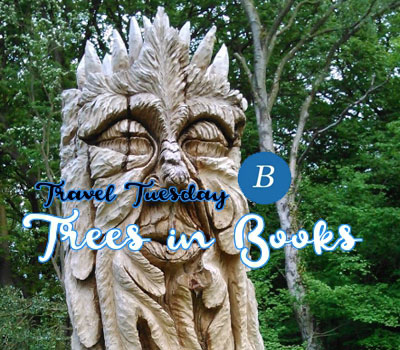 First the serious reason for Tree Week: First initiated in 1975, National Tree Week is the UK's largest tree celebration annually launching the start of the winter tree planting season.
But from a bookworm's point of view, I am grateful for trees for all kinds of reasons. They're pretty and great places to read books in, they create sounds that lull you to sleep, there's nothing quite like the changing colour of leaves to make you smile and ever since I was a child, I've always wanted to find Moonface and his friends living in one and taking me to the magical land at the top…
Trees also obviously provide the raw material for books themselves and there have been some very imaginative uses of trees in novels recently. You wonder how? Allow me to explain….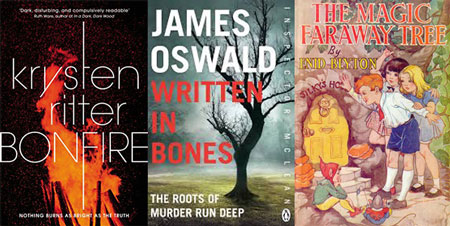 That's the problem in this novel ( apart from the name which puts the fear of all fears into trees) – there's no trees at all in the town they call Barren, hence the name you'd assume – and the land is so empty that there's not enough timber to build houses and fires. The alternative has been therefore to have a plastics factory giving jobs and hope to the people.But now it has been discovered that this plastic could have been polluting the ground…
Environmental issues abound in this one….Shows you the importance of our leafy friends
Not often that you get a tree as a major crime scene where the body is still hanging in the branches. This is the opening scene of this book and the tree in question is one of the lovely family of trees in Edinburgh's The Meadows where walking and reading are the ideal things to do.
There were no trees harmed or disturbed in the making of this novel. The tree in question is now famous and is rather enjoying the added attention from literary travellers.
The tree I wanted in my garden
Magical lands at the top of the tree? Characters like Moonface living in the tree – secret little cosy houses where you can pop in and visit them, maybe have cake on your way to the land of adventures? When you're a child, this was the most magical tree I'd ever known and started my tree climbing phase…. but that's another story.

You can't visit Northumberland without seeing the famous Sycamore Gap – this tree has movie credits to its name as it starred in RobinHood, but it's most excited about its starring role on the cover of Sycamore Gap by LJ Ryan.
DCI Ryan investigates paganism and all sorts in Northumberland and Holy Island and this tree stands at the centre of the intrigue.
It takes a good picture does this tree. Stunning in daylight and silhouette, it's an iconic part of Hadrian's Wall and the landscape around it.
There's a lot of mystery and murder around this tree, and tourists flock to it due to its fame but it's said to be keeping its roots firmly in the ground.
Talking Tree
Do you remember The Learning Tree? It spoke. It told the children that they shouldn't leave rubbish lying around and shouldn't spill their lemonade in the pond as "Fish have feelings yes they do"
Always wanted to meet a  talking tree. This series of books was ahead of its time I thought – environmental issues and lots more explored in a fun colouful way.
When I spotted this in Thornley Woods in North East as an adult, it gave me a frisson of excitement and took me back to those childhood days reading these books on the carpet of the front room (aah the memories!)
Let's end the tree talk with a  scene in a book that I always imagine myself in as I dreamed of having a tree house as a child. Still do, if I'm honest and if I had one it would be this one:
Rural England, a farmhouse in the middle of nowhere, a summer's day at the start of the 1960s. The house is unassuming, half-timbered, with whit paint peeling gently…
The chimney pots are steaming and you know, just by looking that there's something tasty simmering on the stove top beneath.
And high above it all, lying on her back on the floor of a wooden tree house, a  ….(well a sixteen year old girl who is me in my mind)
There's many more of course but these are the ones which stick in my mind. Which trees in books can you recommend?