TravelTuesday – Books set in a gothic house
There's something about a very old creaky house that really makes for a thrilling read. Gothic, creaking floorboards, shadows, mysterious doors that don't open and ghostly voices which whisper thorough the walls…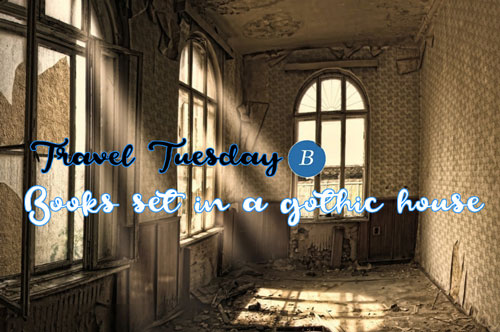 The cover says it all – the vines, the creepy swamp like feel to it all and the great house set on a plantation in the deep south. It's actually set in a real town – Keokuk – where there are houses and streets like those in the book. The author has really done her homework and used a blend of fact and fantasy to reconstruct this house and place it at the centre of a mystery of missing children.
"What remained as Keokuk faded, was a mix of grandeur and decay: crumbling turn-of-the-century architecture, a sprawling canopy of old trees that had begun to lose their limbs, broad streets and walkways that had fallen into disrepair."
If you ever go inside a house, look into a mirror and see someone other than yourself looking back at you, then this is going to be one heck of a gothic house. Boy this was creepy! A man is left a mansion by someone and he goes to take a look around. There's an old fashioned lift with concertina steel doors,a lift with a mirror, lots of funny noises and strange goings on…
One room is a "feast of browns and reds" and the chairs are covered in "blood red leather". This is a house which has kept its history in every part of its being, of its soul."
Just don't look into that mirror!!!

Well,what more is there to say about this house! Sophia Tobin paints a deliciously gothic picture of gothic houses and landscapes in all of her books, but this house has caused a housekeeper to ..well.. disappear. It's located in Yorkshire too so the winds whistling on the moors, the dead sheep, the wild landscape all paint a grim and gothic picture.
The premise sets this up for a gothic treat – a widow moves to her late husband's crumbling estate. Resentful servants and hostile locals create even more of a gothic and twisty atmosphere. Then when you find the locked room, and date to venture beyond it where there is a two-hundred-year-old diary and a deeply unsettling painted wooden figure that looks like you…
Brilliantly crafted and deliciously spooky….if you've ever worried that  the eyes of a painted portrait follows you around the house, then this is for you!

"Gull House is made from weathered stone the colour of storms, oak beams remembering where they once grew." Imagine a house with an attic and a treasure chest of sorts inside. You'd be compelled to open it wouldn't you? Have a look and dust of the memories of the past to see what the box holds. But that's just the start of the creepy gothic-ness in this book. And Gull House is aptly named – all the noises and freaky motions you expect from the birds, is weaved into a novel which chills from the word go
Now this is list is just a taster – What about the classic gothic houses like that of Jane Eyre, Wildfell Hall, Manderley to name but three? The house in Misery chills for another reason altogether  and the  houses Agatha Christie would find a dead body inside…the gothic manor houses of the Golden Age crime stories….so many to visit! (if you dare)