Thriller set on a (Falling) plane T J Newman
Falling set on a plane
Now, this novel was written by an air stewardess whilst she was on a plane. You know this is going to be full of authentic and fascinating detail so this author's background is amazing. When you start reading the book however, you're never going to look at air stewardesses in the same way again haha. THIS  is such a ride in every sense of the word. Put on that seatbelt as you are SO going to need it…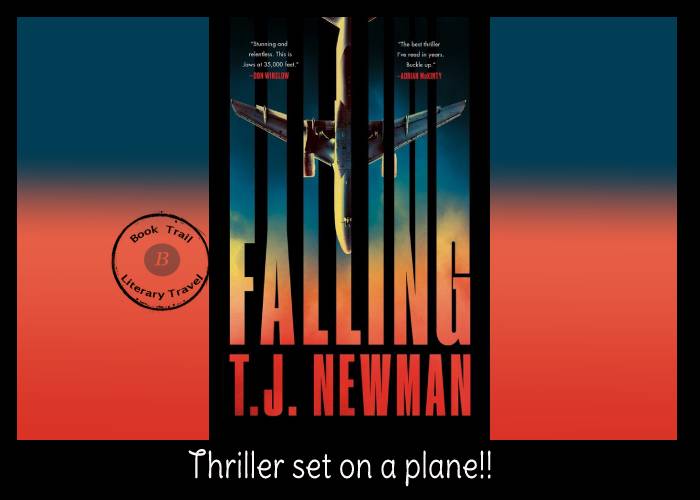 Setting: a plane!

#Bookreview
Where this novel takes you…
Well…that would be telling..you leave LA on the plane headed to New York but where you end up….that's a spoiler!
Postcard review
The premise is a unique and exciting one: You're an airline pilot and terrorists have kidnapped your family. Now, you have a choice – either you crash the plane deliberately or they will murder your family. Now, if that's not an opening, I don't know what is! The author has lots of experience from working as an air stewardess so there's going to be plenty of authentic detail and there is!
This author knows how to build tension. I think part of this is the fact that most of us have flown before, so we know of the cramped and often hot/cold conditions on board. Imagine now a long flight from Los Angeles to New York which is long. Add to that the fear and the unknown, the sense of entrapment and worse and your head starts to explode. A powerful read from the off!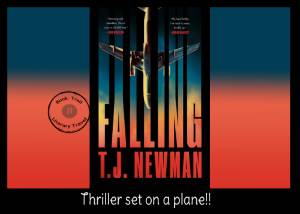 It was fun and fast reading this as it was horrific when you thought about it but also fascinating and intriguing. The story flows well as you realise what is going on on the ground and the frenzied behind the scenes moments. The fear is a character itself and it fills the plane throughout. Given the themes, it did remind me of stories which have sadly been in the news over the years. Falling never mentions them but builds a world of its own and I think it works very well indeed.
I felt a bit breathless by the end and it's the quickest I've read a book. Blimey,  I had to race through it as my pace of reading matched the pace of the action within. Quite possibly, I held my breath in parts too. The characters, the POVs, the frenetic threads weaving their way together was a very exciting reading experience and I'm just pleased I wasn't on a plane when I did

BookTrail Boarding Pass: Falling
Twitter:  @T_J_Newman