The Good Liars of Gloucestershire with Anita Frank
The Good Liars  –  Anita Frank
Anita Frank is at BOOKTRAIL TOWERS TODAY!!!!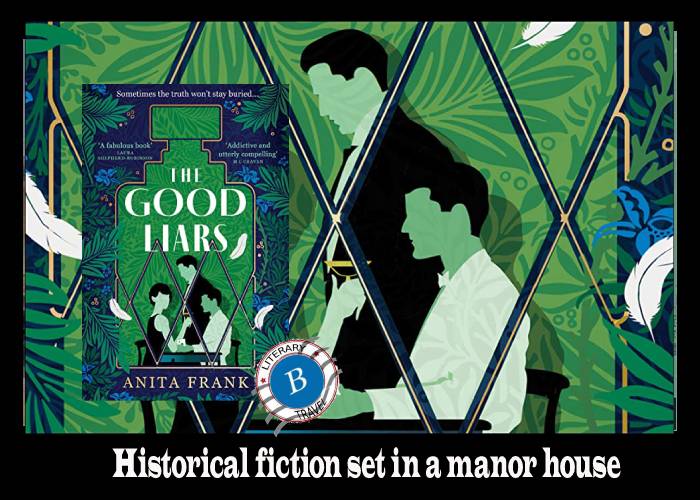 There is nothing I love more than big old houses – they always manage to set my imagination alight. Their grand rooms become the backdrops to high drama, their dark corners a haven for shadows and secrets, while their sweeping staircases form a perfect stage for romantic declarations. Get the picture? Yep, I adore them!
The haunted mansion in my debut novel, The Lost Ones, became a character in its own right. Opulent and oppressive, Greyswick concealed the book's dark secret within its very walls, and whilst the house in my new novel – The Good Liars, a murder mystery set in 1920 – is very different in nature and appearance to Greyswick, it is just as critical to my story. Even before I finished plotting my tale, Darkacre Hall had taken residence in my mind's eye: a crumbling black and white mansion, with wood panelled walls, leaded windows, and flagstone floors. Dark, dreary, and a little bit creepy!
Welcome to the manor house in the novel….
Baddesley Clinton
Locations and physical settings are always high up on my list of priorities when I start writing a new book, because both can affect the way the story unfolds. With The Good Liars, I knew that the geographical location was going to be critical, because my characters find themselves threatened by rising flood waters.
Combining this factor with my desire for a black and white house, I decided to set the story in Gloucestershire, as the west of that beautiful county is prone to flooding, and timber frame properties are characteristic of the area – though admittedly, I have taken a few liberties with some of the landscape descriptions!
With my geographical location sorted, my thoughts naturally returned to the house itself.  After much trawling of the internet, I came across a National Trust property called Baddesley Clinton. Having seen some internal photographs, I knew I had to visit.
And I'm so glad I did! Dating back to the medieval period, this moated manor house provided me with oodles of inspiration, and anyone who has been fortunate enough to go there may find themselves recalling certain rooms and features as they step inside my imaginary Darkacre Hall.
One of the most inspiring rooms, and one which I have reproduced rather faithfully, is the Reception Hall. When Inspector Hume first arrives at Darkacre Hall, he is left waiting in this magnificent room:
'He pauses to admire the seventeenth-century hall, lined with panelling that gleams like chestnuts fresh from their casings. The morning sunshine beams through the crisscrossed leading of its large windows to cast a thousand diamonds across the ancient chequerboard flags of slate grey and pale dove. But the most impressive attribute of the room is the fireplace, a floor-to-ceiling rockface of carved stone…'
And later, we glean a further detail:
'In the near corner of the room, concealed by a projection of panelling, is the beginning of a staircase…'
I have also recreated part of the upstairs layout in my novel. New arrival, Sarah, is led to her room by the lady of the house, Ida Stilwell:
'"I've put you in the Yellow Room," Ida says as she descends seven steps that see the corridor give way to a broad landing as they reach the far end of the house.'
A painting at the property even led to the creation of a character – although I have no doubt Frances Ferrers was a much nicer individual than the rather dastardly Hugo Stilwell!
With its treacle-coloured panelling, narrow beamed corridors, and creaking floorboards, the interior of Baddesley Clinton offered a wealth of material for me to draw upon, and I hope by doing so, I have managed to create a dark and eerie setting for my unsettling mystery, a house in which it's entirely conceivable ghosts might linger, while murderers may indeed move undetected.
What truths will you uncover in this house occupied by good liars?
Now THAT is a very good question!
Twitter: @Ajes74