The Translator's Russian Locations with Harriet Crawley
The Translator's locations in Russia
Wonderful to have Harriet Crawley on The BookTrail today. Wait until you see where she writes about in Russia!
When I left Moscow in 2016, I knew it was time to get back to writing 'suspense fiction', a term coined by the great Patricia Highsmith, and one I prefer to 'thriller'.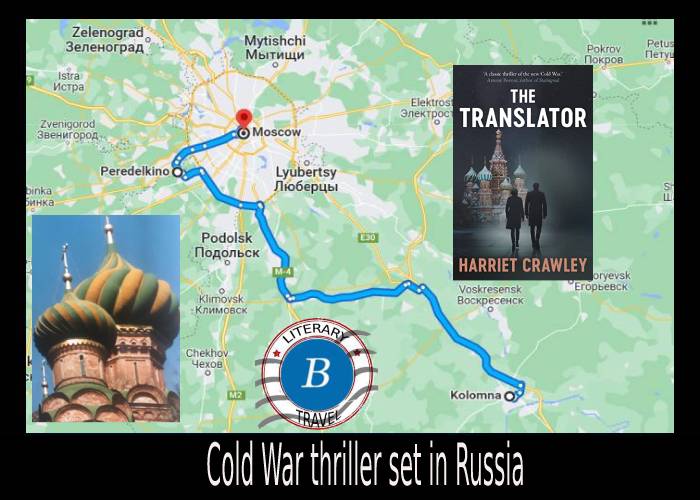 The setting would be Russia where I had lived and worked for over twenty years. I had been married to a Russian, sent my son to a state school, and later I spent ten years working in the energy sector in Moscow. I loved the country, while hating Putin and his politics.
The idea for the plot came from a Policy Exchange paper written in 2017 called Undersea Cables: Indispensable, insecure. This report highlighted the vulnerability to Russian attack of UK communication cables under the Atlantic. The author was a relatively unknown MP called Rishi Sunak.
Against the background of a Russian plot to sabotage the undersea internet cables and wreck the Western economy, I would write a love story. My protagonists would not be spies but linguists: Marina Volina is interpreter to the Russian President, and Clive Franklin (who hates the word 'interpreter' and calls himself a 'translator') serves the British Prime Minister. Former lovers, Marina and Clive meet again in Moscow. At the Bolshoi, Marina drops a bombshell: she tells Clive she is ready to betray her country for a new life and promises top secret intelligence which might just derail Russia's malevolent sabotage plans.
Moscow, centre of Russian power and a city I knew better than London, would be at the epicentre of my story. But what of all the other extraordinary places I'd seen in over twenty years? Twice I had taken the train from Moscow to Vladivostok. I had ridden a horse through Scythian tombstones in the Altai, visited a former gulag on the White Sea and a winery on the Black Sea, and, in mid-January, flown across eight times zones to Yakutz in the Russian Far East, the coldest city on earth, where the average winter temperature is minus 50. And much more.
But there's no place like home. For me that meant a wooden dacha in Peredelkino, a village 27 kilometers west of Moscow. It was here that I spent my first three years in Russia.  Buried in woods of pine and silver birch, threaded with mud lanes. Peredelkino is where Marina rents a dacha. It is also home to Vera, Clive's Russian teacher.
As the car drew up outside Lermontov Street 2A, Clive noticed that the big green gate was still hanging on its hinges. But the orchard and the garden were meticulously neat, and there were new blue shutters on the old wooden dacha.
Peredelkino was founded by Stalin as a writers' village, and it was here that Boris Pasternak lived and wrote Doctor Zhivago. Alas, the beautiful view from his study to the church on the hill and the graveyard where he is buried has now been obliterated by a housing estate for the rich.
And what about Kolomna? I used to visit this beautiful town with its lazy river, 17th century kremlin and watchtower, to buy paintings from the outstanding local artists. But it was the new Olympic speed skating center on the edge of town which found its way into my story.
My last home in Russia was a light-filled apartment in the heart of Moscow, at 25 Tverskaya, which I bequeathed to Marina. Writing about my wonderful flat was cathartic. I felt I had never left; I was on the landing, talking to my friend, the concierge, Oxana…
25 Tverskaya
…a plump, whitehaired woman in her late sixties with alert brown eyes and several moles on her round face; she also had a bad back and arthritic fingers. Oxana spent her days on the landing at the top of the entrance stairs, right by the lift, sitting in an old swivel chair next to a rickety table and a narrow bed, where she slept at night.
From my front window I could almost glimpse St. Basil's. Almost, but not quite. But I carried the cupolas in my mind's eye. Their twisted shapes seemed to mirror the twisted mind of the Russian President in my book.
I doubt very much that I shall ever set foot in Russia again, but many Russian people and places are stamped on my heart.
The author is not on social media