#Authorsonlocation – Pennsylvania- Tom Bouman
Tom Bouman talks Fateful Mornings, Wild Thyme, Pennsylvania and love…

So why Wild Thyme ?
Wild Thyme is a fictional township in a fictional county—Holebrook—in northeastern Pennsylvania, where it is rural and hilly. It is known as the Endless Mountains region.
How did you research the locations?
Wild Thyme is loosely based on places in northeastern Pennsylvania and upstate New York. I didn't need to research the locations, so much, because I had grown up there. But because I'm writing about a fictional county, in the interest of consistency I had to imagine and map much more than appears in the books. For the first book in the series, Dry Bones in the Valley, I drew a few maps, created topography, and routed roads through the county.
Where can we visit to see Wild Thyme?
There is not much to do or see in northeastern Pennsylvania in the tourist vein. In southeastern and southwestern Pennsylvania, there are major Pennsylvania cities like Philadelphia and Pittsburgh. We don't have that in the northeast. There aren't dozens of good restaurants and what-not. It is more of a place to be than a place to do or see things. Those who enjoy the outdoors may appreciate a summertime visit for cycling, canoeing, hiking, or birdwatching. In the late fall there is deer hunting. You might find the odd brewery or art studio. It can be a lovely place for people who like dirt roads and barns. I love barns.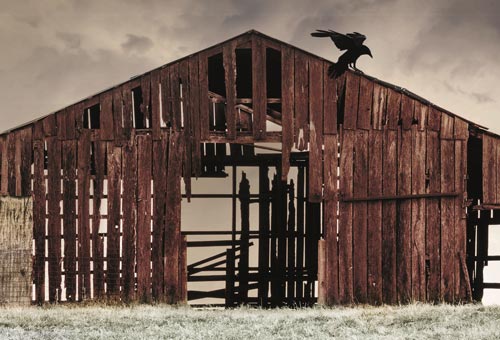 Your cover shows a dilapidated shed with a crow flapping its wings. Do you like the dark side of landscapes?
It is a desolate image, isn't it? Yet I like to think Fateful Mornings is a summertime book full of life (and also death). The shed appears to be set somewhere in the dust bowl or out west, not in the green hills of the Endless Mountains. And it is a shed, not an honest-to-god barn with history and architecture. Nothing good ever happened in that shed. But it is a direct image, and gets quickly to the grisly aspects of the book. Now that I have inappropriately complained, I do defer to my publishers—it's their job to design the book, not mine, and who am I to have a design opinion? I'm not a designer. If I'd had my way, I'd have put a close-up of a little wildflower or some nice green moss on the cover, and people would be like, what is this book supposed to be?
Basically, this is all to say that there is the book itself, and there is the story of the book. The cover tells an important part of the story of the book. There is no way a cover can encompass everything—the small joys and hopes of ordinary people in extraordinary straits, the wide spectrum of emotional life, socioeconomic circumstances, the weird old beliefs that persist into the twenty-first century, the profusion of summertime in the hills, a bonfire with friends, a songbird. All of that is atmosphere, as much as a creepy crime scene is. But at some point, if you have a creepy crime scene in your book, the story of your book has to show that, and not the small joys and hopes of its author.
You are described as being the author who is 'Exploring the darkness at the edges of contemporary America' What would you say to this?
I'm not saying my series doesn't address some endemic issues in rural American life—it does. But I don't set out to make grand, national statements, because my work is fiction, with its attendant distortions and exigencies. Plus, I think small-scale, in stories that I might read in the local paper, not in sweeping trends.
You do put your characters in some awful (yet gripping) situations? Would you be as brave yourself do you think?
Oh, of course! Wouldn't you?
So, let's meet Henry Farrell. Who is he?
Henry Farrell himself would not be able to answer that question. He might respond in terms of people and institutions in his life. He was raised poor in the hills by parents who valued hard work, outdoor life, and a severe strain of Christianity—only two of these three values has Henry carried into adulthood.  He hated school and now mistrusts anything like it. He is a military veteran. Though he is a skilled hunter, when he kills an animal, he feels he is betraying his own kind. This is because the animals are locals, like him, and because he has caught glimpses of a spiritual worldview where there is no "I" separate from the rest of existence. Unfortunately, he often feels the same way about people he has to arrest. He met and married the love of his life, Polly, out west in the mountains, but she died of cancer at an early age. His best friends are Ed Brennan, a timber framer by trade, and his wife Liz, a doctor. Henry is shy and quiet, and best able to connect with others over music, particularly old-time fiddle tunes. He is not above the occasional cold IPA or "safety meeting."
He goes on a search across state lines – why does crossing state lines add to the tension?
As a police officer of a tiny rural township, Henry Farrell's sphere of authority is actually very small. If he goes across state lines, then he moves out of that sphere into a more dangerous place. Most places in the world other than Wild Thyme would be terra incognita to him—a blighted city with underground economies is no exception. And the farther afield his investigation takes him, the more likely it will be to impact more people, and to involve crime at a larger scale.

What kind of detective/crime novels do you like to read?
I like all kinds, from all eras. As a teenager and young man I read the entire Travis McGee series by John D. MacDonald, which spanned the sixties to the eighties. I have taken a deep dive into classic noir–Hammett, Chandler, Ross MacDonald–as well as contemporary stuff like Daniel Woodrell. There are books I enjoy that involve a degree of crime or violence, but aren't exactly crime novels – in that category, Larry Brown, Bonnie Jo Campbell, Donald Ray Pollock. I have read many Golden Age novels and enjoy their lightness. I gravitate toward a certain kind of American novel where whodunit doesn't matter as much as why, and who is left behind—Richard Price, James Lee Burke, Dennis Lehane, George Pelecanos, Attica Locke, William Kent Krueger. I really admired Tana French's In the Woods. I love P.D. James's books.
What real life case do you think Farrell would like to solve? In the US or elsewhere
In 2014, a domestic terrorist ambushed two Pennsylvania State Troopers, killing one and seriously injuring the other. The shooter was eventually caught after an extensive manhunt. It was an ugly, cowardly crime. The case has been solved, but Farrell would have liked to help search for the killer, I think. That was an unusual, high-profile murder. Far too frequently women, often addicts, disappear from the margins and are never found. Those disappearances would call to Henry.
Which fictional crime story could Farrell play a part in do you think – and which fictional detective would he be good working with?
Could we send him to Happy Valley? He might get along well with Sergeant Cawood. Alternatively, if we could send him back in time, I know he would enjoy Miss Marple's company, and vice versa.
What's next for Farrell?
Love, don't you know.
Well what a perfect note to leave things! Thank you Tom for chatting Fateful mornings, love and Wild Thyme