Cornwall – The Summer Theatre by the Sea – Tracy Corbett
Off to Cornwall with Tracy
Who can resist a novel set on a beach? Set in Cornwall? Even though the places in the book are fictional, they are all based on some very real and very gorgeous places…
Although I'd been to Cornwall a few times on holiday, it wasn't until my partner's mother moved down there that I began to visit frequently. The Summer Theatre by the Sea is set in the fictional town of Penmullion, but it was inspired by a few key places. The town itself is based on Looe, with its sloping hills, winding narrow lanes and stunning views overlooking the English Channel. Looe is essentially a fishing port and the harbour is the focus of the town.
There's a great mix of quirky shops and restaurants, and it's lovely to wander around window shopping and enjoying the art shops. New Year is a particularly fun time to visit. Like many of the neighbouring towns, every year Looe hosts a massive street party, with locals and visitors dressing up in the most bizarre costumes. And boy, do they take fancy dress to a whole new level! I've seen everything from Noah and his Ark (animals in tow), to a group of lads dressed as Crayola crayons (wearing only swimming trunks, their bodies spray-painted various colours – and in winter!) A rival group of lads were dressed as Smurfs, spray-painted blue, but with the addition of white hats. Add in Star Wars characters, Harry Potter, Thunderbirds and Batman & Robin, and it's quite a sight. It all culminates with a massive firework display on the beach at midnight, followed by a sea swim next morning by a few brave (crazy) souls.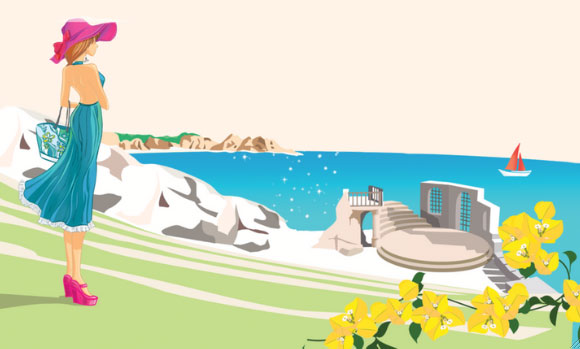 Penmullion beach is based on the cove at Seaton. It's a very pretty beach with sand dunes and a craggy rock face. It's popular with families looking for a sandy beach and dog walkers alike. Stunning on a summer's day, but harsh when the weather's bad, as it's so exposed. There's a wooden café that I've also used in the book, which is a lovely place to stop off and have a warm drink or a spot of lunch. They have bench-seats outside, so you can enjoy the scenery and people-watch – my favourite pastime. Unfortunately, due to the bad storms a couple of years ago, it was destroyed. But the owners have rebuilt it, and it was great to visit again last summer and see the business thriving.

It's probably no surprise that The Corineus Theatre is based on The Minack in Penzance. What a stunning venue. The stage is cut into the rock face, looking almost as if its suspended in thin air. With the waves crashing behind and the wind swirling around the stone walls, it's quite a spectacle. I hadn't realised until visiting the theatre to watch a production of Amadeus that the cast are all amateurs. Each summer season various amateur groups from around the country travel down to Cornwall to put on a show. The quality of the shows are brilliant, and it's quite an honour to be chosen to perform there. Naturally, as someone who loves amateur dramatics, I was captivated, my creative juices began to flow and the idea to write a story was born.
Twitter: @tracyacorbett