A very scilly love Affair – Philipa Ashley
A Very Scilly Love Affair
Phillipa Ashley's new book may be called Christmas on the Little Cornish Isles but the setting is very warm  as you can see from this picture. It's not a place often on the literary map but this hidden gem off the Cornish coast is definitely worth a visit – Christmas or not…
How does an author's love affair with a place begin? My infatuation with the Isles of Scilly began long before I'd even visited them. I'm afraid I'm one of those weird people who loves maps. I can pore over an atlas for ages, in the same way that people read a magazine or book and the sight of a group of islands floating in the sea beyond Cornwall, has always intrigued me.
Scilly is an archipelago of five tiny inhabited islands and hundreds of rocky islets, situated in the Atlantic 28 miles south west of Land's End. The whole place is an Area of Outstanding Natural Beauty and only 2,200 people live there.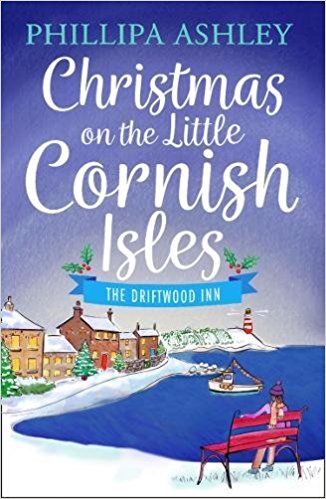 As a wordsmith, the intriguing names of the islands were enough to give the place mythical status in my eyes. In fact, some people have speculated that St Mary's, St Martin's, St Agnes, Tresco and Bryher were once part of the lost land of Lyonesse that features in the Arthurian legends. On a clear day, you can actually see them from the cliffs around Land's End.
I have to credit a friend of mine, Hilary, for helping me turn a dream into a reality. She's been holidaying on Scilly since she was a child. I won't tell you how long that is but suffice to say that she now counts islanders as her friends. Her stories and wonderful photos of these beautiful islands and their remarkable characters fascinated me. Then, a few years ago a BBC series called An Island Parish, filmed on the isles, fuelled my need to see Scilly even more.
So in 2014, when I saw a Travelzoo Offer for a 3 day break to the 'soft opening' of a luxury hotel, I had no hesitation. My husband came home to be told he was off to stay on St Martin's.
Getting to Scilly was an adventure in itself. We chose to fly in a light aircraft from Newquay. It never climbed higher than 4000 feet above the coast of Cornwall and spotting the landmarks and bays from above, was magical.
Scilly is unique and small community and I wouldn't want anyone to think I had used real people or business in my books which is why The Little Cornish Isles are a blend of fantasy and reality.
As I've said in the Author Note to the new series:
I'll leave it to you, the reader, to decide where Scilly ends and the Little Cornish Isles begin.
Thanks Phillipa – I feel I've even got a bit of a suntan thanks to that visit to the isles!
Twitter: @PhillipaAshley ‏   Web:phillipa-ashley.com