River Sing Me Home locations with Eleanor Shearer
A Journey to the Caribbean with Eleanor Shearer
The lovely Eleanor Shearer has popped over to BookTrail Towers today to talk about her wonderful new novel River Sing Me Home. Such an important novel for so many reasons. It's so well-written and heartbreaking too – wait until you read it! For now, let Eleanor take you on a literal journey….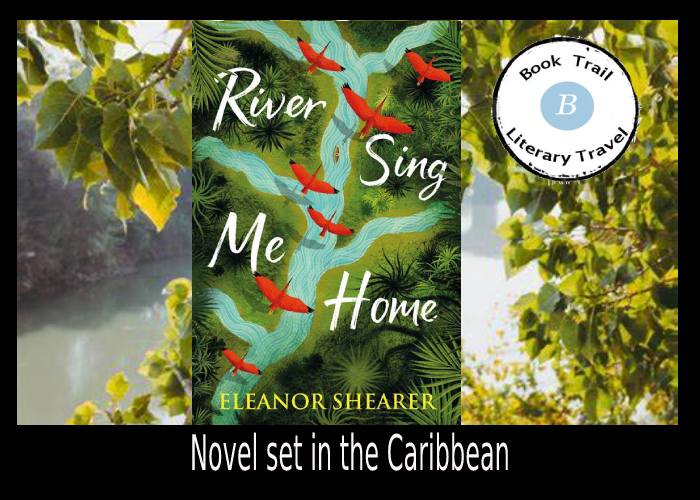 This story is inspired by women in the Caribbean who really did try to find their children after emancipation. I first learnt about this little-known part of history when I was a teenager and went to an exhibition about slavery, and that planted the first seeds of the novel. I later read about one woman in particular, Mother Rachael, in an oral history of the life of Samuel Smith. Mother Rachael was from Antigua and managed to find her daughter, Minty, after walking to the north of the island. This helped inspire my protagonist, Rachel, named in her honour.
How did you research the locations? Did you choose them or did the story choose them?
I knew I wanted the story to start in Barbados, partly for personal reasons – my grandfather was born there. But Barbados also seemed a good place to start because it was one of the wealthiest and most densely settled British Caribbean colonies – also called 'Little England'. So it felt like starting the story right at the heart of British colonialism.
After that, I was somewhat limited by historical plausibility. Almost all of Rachel's children are taken and sold after 1807, when the British abolished the slave trade. I read up on the internal Caribbean trade between 1807 and 1834 and the places where enslaved people were most likely to be taken were colonies like British Guiana and Trinidad that weren't yet very densely planted. British Guiana also had significant runaway communities at the time, as well as surviving indigenous people, and I knew I wanted to book to touch on both aspects.
What was the Windrush exhibition that inspired the novel?
The exhibition, put on by the Windrush Foundation in 2013, was called Making Freedom. The idea was that British people often think of freedom from slavery as a gift from benevolent white people like William Wilberforce. This doesn't do justice to enslaved people in the Caribbean, who were the agents of their own liberation. The exhibition explored all the ways, large and small, that Afro-Caribbean people rebelled against slavery, from the Haitian Revolution to everyday acts of resistance. The exhibition also noted how women in the Caribbean worked to reassemble their families after emancipation.
What did you want us to understand about Rachel? There must sadly be many Rachels
Rachel draws very much on the Black women in my own life, like my mother, my aunt and my step-grandmother. I wanted to capture the way their experiences of racism have made them at times quiet and watchful, but that they are also incredibly resilient, kind and loving. I hope above all that readers take away from Rachel a sense of hope – that, sadly, suffering like hers was (and is) prevalent, but that even in those painful parts of history people could find love and joy.
Did you visit the locations and where did you research the time and place when the plantations were active?
I wrote this novel during the pandemic when travel to the Caribbean sadly wasn't possible, so I relied on previous visits to the region, as well as a lot of use of Google earth to follow in Rachel's footsteps! In 2018, I went to the Caribbean to conduct fieldwork for my Master's degree in Politics, and this trip in particular was invaluable to the novel. I was researching the way slavery is remembered on the islands, and interviewed family members, historians and activists. This produced a kind of oral testimony that I wanted very much to respect, where people told me about their knowledge of local rebellions, of nearby runaway villages or indigenous peoples eventually wiped out by colonialism. All of this helped build a sense of what the Caribbean would have been like at the time.

The story is a weave of locations and a story that transcends borders. How did you get into the mindset of someone fleeing the plantation and looking for their children?
What I love about historical fiction is its wonderful combination of the universal and the particular. All of my research – the interviews for my Master's degree, the books I read, the old maps I consulted – helped me recreate the place and the time in which Rachel lived. But I always saw her quest as something more universal. All of us, mothers or not, can empathise with the idea of her fierce love for her children and her terror at losing them forever, and that gave me something to anchor myself in this unfamiliar time and place.
Thank you Eleanor for such an insightful trail of your fascinating book!
Twitter:@eleanorbshearer  Web: www.eleanorshearer.com/