River Sing Me Home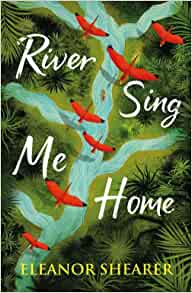 Why a Booktrail?
1834: A plantation worker goes on a journey to find her missing children
What you need to know before your trail
Mary Grace, Micah, Thomas Augustus, Cherry Jane and Mercy.
These are the names of her children. The five who survived, only to be sold to other plantations. The faces Rachel cannot forget.
It's 1834, and the law says her people are now free. But for Rachel freedom means finding her children, even if the truth is more than she can bear.
With fear snapping at her heels, Rachel keeps moving. From sunrise to sunset, through the cane fields of Barbados to the forests of British Guiana and on to Trinidad, to the dangerous river and the open sea.
Only once she knows their stories can she rest.
Only then can she finally find home.
Travel Guide
 Author takes you to a few of the locations
Bridgetown, Barbados
The capital city of Barbados and the island's main port, this is where Rachel first flees from her plantation to try and find her children. Bridgetown is next to the ocean, and was a bustling harbour – as the easternmost of the Caribbean islands, it was often the first stop for ships crossing the Atlantic.
Georgetown, British Guiana
Rachel crosses the ocean to come to British Guiana searching for her two sons who were taken here. It was common during slavery for families to be separated and scattered across the Caribbean. British Guiana is on the coast of South America, and its capital, Georgetown, sits on the mouth of the Demerara River. It was the site of a significant slave rebellion in 1823, which was brutally supressed by the British militia.
Demerara River, British Guiana 
Believing one of her sons to be living in the rainforests of British Guiana, Rachel journeys by canoe up the Demerara River. The Demerara is deep brown in colour with a powerful current, teeming with fish and with black caimans that can lurk just below its surface.
Trinidad
The final stop in Rachel's journey is Trinidad. Once a Spanish colony, it became British later than other islands like Barbados and was not as densely settled. Port of Spain, its capital, lies at the foot of a mountain range and is bordered by swampland.
BookTrail Boarding Pass: River Sing Me Home
Destination/Location: Barbados, British Guiana, Trinidad   Author: Eleanor Shearer  Departure: 1834
Back to Results