Norfolk and The Very Secret Society of Irregular Witches
Norfolk and The Very Secret Society of Irregular Witches
There is a very interesting literary journey you can take if you in Norfolk. It's dark, witchery and there's a secret society involved. What better reasons to go on a booktrail?
Sangu Mandanna is here to guide you through her novel….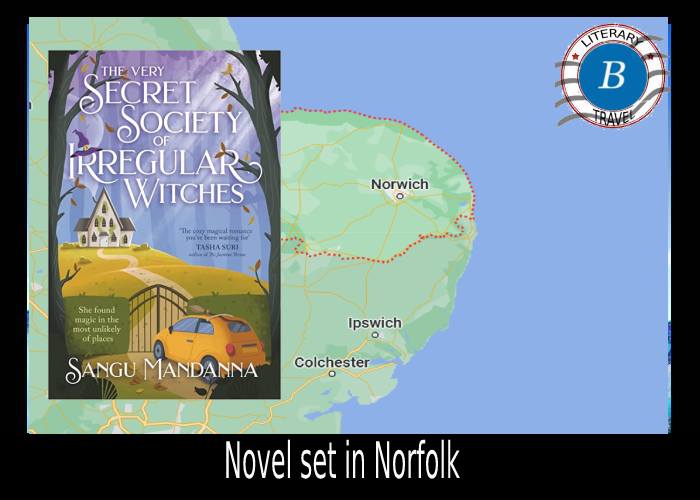 I've lived in Norfolk for almost thirteen years now, and while I don't think I've come close to figuring out all its secrets and mysteries yet, it's my home. There was nowhere else I could have possibly set The Very Secret Society of Irregular Witches.
When I think of the sea, it's not tropical shores and palm trees I think of: it's the North Sea, in all its ever-changing shades of grey and blue, crashing against the heathery dunes and rocks and pebbled beaches of Norfolk. Cold winds, sea salt and pale sand. It appeals to the melodramatic romantic in me, and it appeals to Mika, the heroine of the book, for the same reason.
There are a lot of real places referenced in the book, though not always named; the cathedrals, bookshops and cobbled streets of Norwich make an appearance, the brilliantly named and very real The Lost Sheep is Ian's favourite place to get his knitting wool, and the beautiful flowers of the village of Filby are mentioned.
These are all places that have brought me joy over the years, in one way or another, and these days I think we could all use every bit of joy we can possibly find.
Sheringham on the Norfolk Coast:
That said, The Very Secret Society of Irregular Witches is a romantic fantasy, and so too is Nowhere House, the place where most of the story takes place. Nowhere House is a dream, a beautiful and welcoming house by the sea where anyone who has ever struggled to fit in can be loved and accepted. It's not real, but the sea it overlooks is; the cliffside it stands on is; the sea holly and heather is; the sharp, salty air and crash of surf is; and, finally, those principles of welcome, acceptance and love are very, very real. There is a Nowhere House for all of us, somewhere, and it's just a matter of finding it.
Hunstanton cliffs:
As for Norfolk, well, the cliffs are eroding and the seas are rising, but I don't think it's going anywhere. Did you know that in 2014, the oldest human footprints found outside of Africa were seen in Happisburgh? Scientists say they could be almost a million years old. That makes me hopeful. I'd like to think that in another million years, Norfolk will still be here, and our footprints with it.
Thanks Sangu. A fascinating booktrail!
Twitter:   @SanguMandanna  Web://sangumandanna.com/