Homecoming in Havenbury – Rosie Howard
There are some fictional places, fictional villages which really come to life and jump from the page of a novel. In Rosie Howard's The Homecoming out february 15th, we are taken to the market town of Havenbury…..but where is this? We asked the author Rosie Howard for a short guided tour…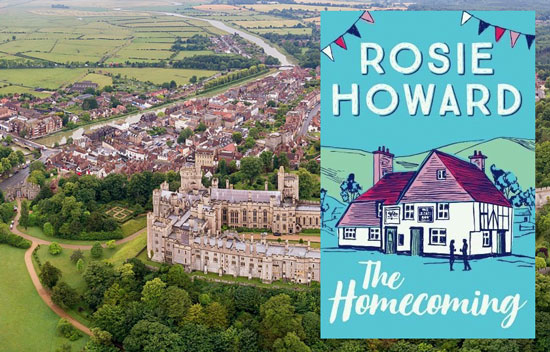 The fictional world of Havenbury is based on the market town of Arundel and its surrounding villages where the author has lived since childhood.  She feels that the Cotswolds and Cornwall have had a good run as the settings for fiction in recent years and it is about time West Sussex got the same recognition.  Arundel , in West Sussex, is a mediaeval town sitting at the feet of the Downs, bordering the coastal plain and adjacent to the river Arun as it wends its way to the sea just a few miles away at Littlehampton.
Local readers of the Havenbury series – contemporary feel-good novels inhabiting a world which is like the love child of The Archers and Twin Peaks – will be able to recognise many of the features of the real Arundel, including the steep high street and the riverside. In 'The Homecoming' – the first in the series, out early in 2018 – the hero, Ben, lives in a wooden boathouse on the south side of the river. The building inspiring it can be seen from the café by the river at the bottom of town where the author has drunk many a latte in her time.
The Italian-style café and pasta restaurant at the bottom of town on the left of the high street is slightly renamed in the books but faithfully reproduced, right down to the eggs benedict, and the delicatessen is given an honourable mention in both 'The Homecoming' and the second book, 'A Vintage Year', which is set to be published in early 2019.
In the Havenbury books, the castle at the top of the hill is a ruin, unlike in Arundel where the Castle – a magnet for tourists and a venue for the arts, including Shakespeare each summer – is also the home of the Duke of Norfolk and his family. Arundel (aka Havenbury Magna) is a thriving market town, with a street market every first Saturday, a cream tea available from nearly every second shop, some fantastic antique stalls and a burgeoning annual Festival of culture; The Arundel Festival comes around every August and features theatre, music and a now famous art trail where local artists exhibit in venues across the town. The thirty or so venues include several private houses, providing excellent opportunities for nosing around in places which are normally off limits.
The inspiration is never-ending and more stories of Havenbury folk are due to follow, so readers can hopefully  track the fortunes of key characters and places, both real and imaginary for years to come.
Thank you for a very insightful tour Rosie!
Twitter: @RosieHowardBook     Web: rosiehoward.com