BookTrail Travels to Vaxholm
A literary journey through the Stockholm archipelago
I've just started reading the latest Hakan Nesser – The Secret Life of Mr Roos –  – Berättelse om herr Roos which was released in Sweden in 2008. Much of the novel is set in a remote house in a remote Swedish forest so……
….I decided to head to Vaxholm as the boat passes many such places AND there's a mini island beside it with a FORT on it. Perfect for another book I'm reading…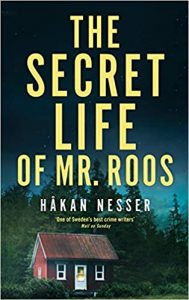 The boat journey from Stockholm takes about an hour so plenty of time for reading. I say reading but even I have trouble paying attention to the book when the scenery outside is so nice!
First stop was the tourist office where I met the lovely Mimmi and had a nice chat about books! She asked me if I liked art and if I wanted to see something amazing. I said yes to both and was directed up the old stairs (very gothic I had visions of Greyswick Manor in Anita Frank's The Lost Ones) and then headed into this room….
Mimmi also recommended the fortress just across the water as there's more art there plus a museum. Of course I headed over and joy of joys found myself on one of these lovely ferries I hadn't been on since going over to one of the Scottish islands many years ago. So windy, they had to strap the cars down. Not quite as windy but let's just say I'm pleased I was trained on the Scottish ferries!
The fort was something else – more literary links too – in 1970, it was used as a  location for the pirate stronghold in Pippi in the South Seas the movie. The fortress was originally constructed by Gustav Vasa in 1548 to defend Stockholm against shipborne attacks from the east.
Imagine this being full of books though – Jo Nesbo's The Kingdom comes to mind even though the book is not about an actual kingdom…The fort also had overtones of Kate Mosse novels…
Back to Vaxholm itself now and it is just so quaint and lovely. Lots of lovely streets to wander ( it looked lovely after the September showers!) and I found this where I want to live – or at least have it as my book mail box…
I didn't find a bookshop but I had a good old look around the library….they have books and tickets tucked inside them with reader's recommendations on them. I love this idea!
On the way back to Stockholm, the heavens opened and it all became a bit Shutter Island to be honest. There was a pile of clothes lumped beside on the tables ….which started to move….a child in a raincoat had fallen asleep and woken up….he was wearing a yellow raincoat….very Stephen King's IT.
So whilst the island doesn't have many literary links, it managed to evoke several literary memories and feelings in me.  From Pippi Longstocking to Shutter Island? Now, that's quite a place!
Happy Literary Travels wherever you are and wherever you go. There's always a bookish link somewhere!