The IT Girl of Oxford and Edinburgh by Ruth Ware
The IT Girl of Oxford and Edinburgh
Two girls share a room at Oxford University. There's a party. One returns home to see a figure coming out of their stairwell. The roommate is dead. The culprit is obvious. He goes to prison but when he dies in there many years later, it comes to light that he may not have been the perpertrator at all. Did the witness get it wrong and what does it mean if she did?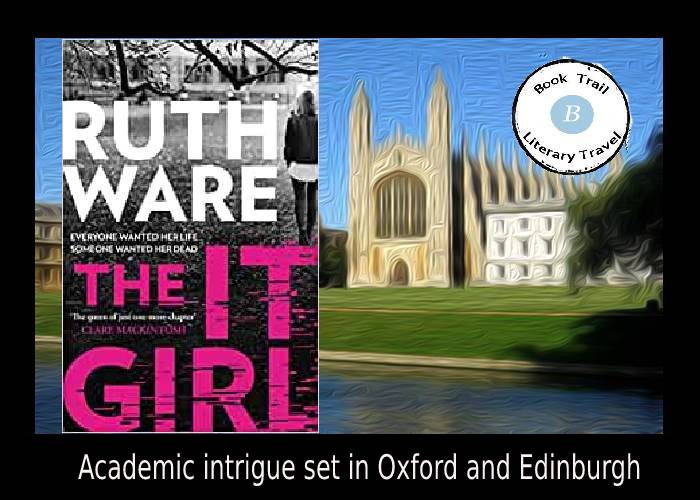 Boarding Pass Information :The IT Girl
Destination : Oxford and Edinburgh
Author guide: Ruth Ware
Genre: thriller
Food and drink to accompany: Nothing , you're a poor student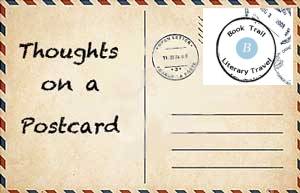 @thebooktrailer
#Bookreview
Take thee to Oxford, Edinburgh and the world of Academia
I get thrills when I read an academic set book. There's something very dark about those hallowed corridors and twisty corners of inner courty yards.
Two girls from very different backgrounds share a room. Hannah is book smart and shy whilst April is from a rich family and she knows it.  They get akng for the most part but when Hannah starts to fancy April's boyfriend, things get a bit weird. Still,  Hannah is keen to keep April on side – this is the kind of girl you have to get to know at Oxford. The life here is less about what you study and more about who you know and where you go to parties. I enjoyed getting to know Hugh, Emiily and the others and thanking my lucky stars I'm no longer at uni.hehe.
Returning to the dorm after a play, Hannah finds April murdered. She mmediately suspects the pervy porter of killing April, as well, she has had dealings with him before and she did see him leave their room only moments earlier. She gives evidence at the trial and the porter is jailed for life. When he dies in prison, it comes out that he may infact be innocent and so Hannah is keen to know if this is true and if so, if she was guilty herself of condemming an innocent man.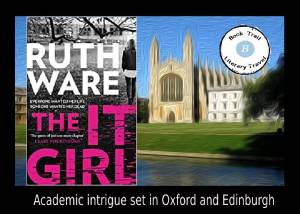 The present story is set in Edinburgh and I enjoyed seeing how life had moved on and how the friends were scattered around the city. Hannah works in a bookshop the lucky thing, but still has nightmares about that night in Oxford. Everything leads to the porter being guilty. He was there, she saw him! But things are never that easy are they? It was all twisty turny and very compelling but I did feel it got a bit long-winded at times with Hannah questioning herself over and over. She is now with Will who was April's boyfriend all those years ago. That makes things weird which is good for the reader.
Trouble is when Hannah starts pokng aroumd, what she finds and who she annoys is something she can't control. The group of friends was a great cast of characters and I got brilliantly lost in all the twists and turns of the way things played out. I was concerned that the investigation at the time was very poor condemning a man who was just seen by one person leaving a building… Everyone in the group of friends and others at the university becomes a suspect, and it was a thrill moving from one to the other, changing my mind about who did it and why.
Give it an edit, put a bomb behind Hannah and it would have made a good novel great.

BookTrail Boarding Pass: The IT Girl
Twitter: @RuthWareWriter   Web: //ruthware.com/