The Fair Botanists set in Edinburgh by Sara Sheridan
The Fair Botanists of Edinburgh by Sara Sheridan
It's the summer of 1822 and Edinburgh is abuzz with rumours of King George IV's impending visit. In botanical circles, however, a different kind of excitement has gripped the city. In the newly-installed Botanic Garden, the Agave Americana plant looks set to flower – an event which only occurs once in several decades.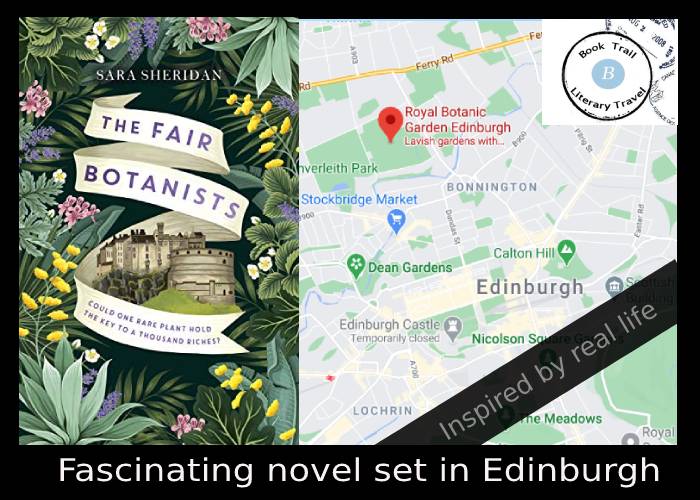 Setting: Edinburgh's botanical gardens

#Bookreview
Travel to the Botanic Gardens of Edinburgh
This is a great book. An immersive read and a heartfelt, human story of science and botany. That's no small feat for an author to achieve but it's a wonderful world that Sara has created here. A mix of fact and fiction too which always makes my heart sing. Real characters walk across the pages with fictional ones or those created from the two. There's a skill in bringing this all together and this book has it.
What a fascinating world that of botany is! This is the early days of the Botanic Gardens in Edinburgh and  various people are interested in the flowers and plants for various reasons. True history lingers in the background as the King is paying a  visit to the city so it really come to life. The garden brings together a cast of characters whose life will all intersect in dramatic fashion. The trees and plants are to be oved from Leith to the new place. There's a plant, an Agave Americana that is set to flower and may people are interested in the seeds. This plant flowers but once in a lifetime. I never thought I would get so excited about a flower, but this is a serious and fascinating time and it completely enchanted me!
The two female leads in the novel, Belle and Elizabeth –  I wish I knew both in real life!  Belle Brodie, is a courtesan. She just does her own thing and seeks pleasure where she can despite what society might dictate. Elizabeth has just suffered a bereavement and so is seeking new adventures. /having worked at Kew Gardens, she is keen to work in the new Edinburgh gardens.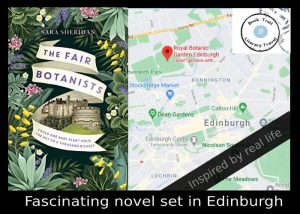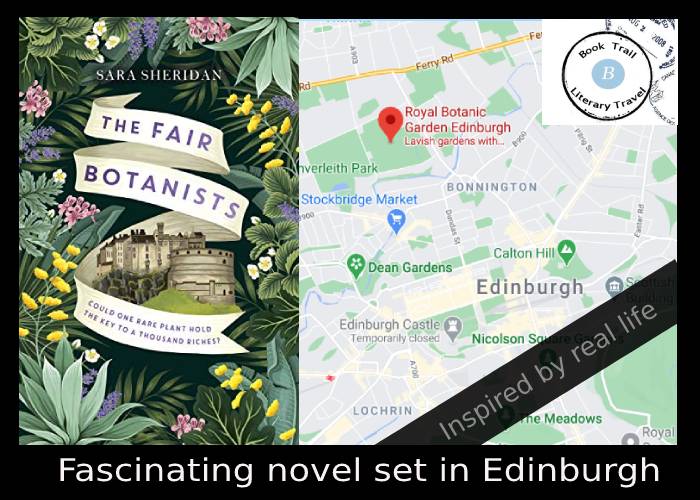 Sara has taken women from history, some real and others reimagined, and given them a voice. Seeing fictional characters walking side by side with real historical figures was magical and it created a wonderful picture of Edinburgh society at that time.
In BookTrail terms, the wonderful thing is that you can pretty much go to Edinburgh today and you barely have to squint to see the scenes and buildings that Sara recreates here. The cobbles, the narrow alleys, the gothic overtones and the Botanic gardens are very much there. The present day might have rubbed off the edges and introduced more modern landmarks but this is an  Edinburgh stuck in time. I was fascinated to be back in the city when Princes Street Gardens were being drained from the loch.  The story behind Constitution Walk in Leith was an eye opener!
A wonderful story and an ode to Edinburgh, the Botanic gardens and all those who worked in this world, especially the women.

Twitter: @sarasheridan  Web: www.sarasheridan.com/