Romanian Noir set in Bucharest – Sword
Romanian Noir – Bogdan Teodorescu
Romanian Noir set in Bucharest – Sword. Know what it is and have you read any? I'm fairly new to literature from this part of the world but I'm now no stranger. This is one of the most unique and fascinating reads I've read in a while. You can't really place it into one genre for it's so much more than  a sum of its parts. It's a complex picture of Romanian society for one, a racially motivated series of murders, political divisions and corruption on every level.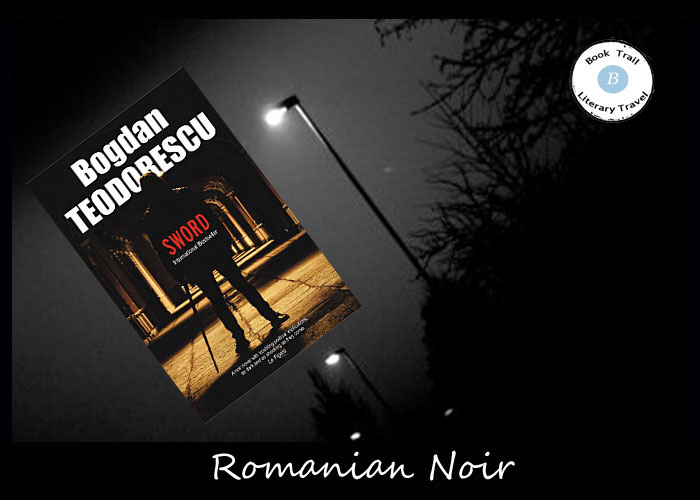 Setting: Gritty Bucharest

#Bookreview
A unique and fascinating insight into Romanian society – or any society with outsiders, suspicion, corruption and worse…
The style of the novel was different to what I'd read before. It was easy to read yet so peppered with authentic dialogue and snippets of cultural references that it was almost like being part of a gripping social theatre piece or even docudrama. The characters were fully fleshed and I quickly felt part of the Romanian society . Scary though, as the social divide and anger against the Roma was evident from the start. This, for me, was a real strength of the novel; how the reader is launched straight into the tensions and the reality of life as an outsider.
The opening chapter pulls no punches. It's graphic. The killer is called The Sword for the way he butchers people. This is a hard-hitting novel. But this is not a gory novel for the rest of the story takes this as a launch to examine society, reactions to the murders, treatment of the Roma people and is not the novel you might have expected from that first chapter.
I found it interesting how this book played with my thoughts and expectations. Some of the victims are not nice people, yet their murder becomes mixed in with the others  – they are mere pieces on a chess set – controlled by the political and criminal elements of society. It's the media portrayal of it all that really shocks however.
A really fascinating read. Get Romanian Noir  on your reading list!

BookTrail Boarding Pass: Sword
The author is not on social media