Orentober – A season to feast on books
Travel with Orenda Books this Orentober
Orentober – A season to feast on books – The month of October is a good time to sit and read a book. More so than most. The nights are getting darker, people are getting their blankets out and the aroma of hot chocolate is in the air. This is the time which calls for some seriously chilling reads.
This October, there's a hashtag going around on twitter which celebrates not just October but Orentober. A mix of the name of the month and the publisher Orenda. Remember when I mentioned those chilling reads and translation treats you need to have this month? Well, so happens, Orentober provides that last set of ingredients to your reading experience…..
Orentober – A season to feast on books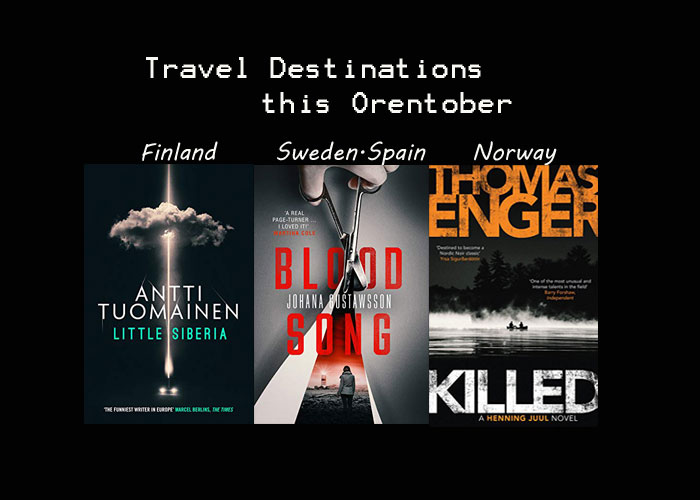 Orentober
It's all about wanting to enjoy your reading even more. Find new authors, exciting reads and book that quite literarlly blow your mind. ORenda takes risks on upcoming authors, authors not yet translated into English, finds new and exciting authors (who often cross genres) and THAT is a good treasure chest of reading gems right there.

So many to mention but there's a short and handy guide…..
The FUNNIEST author when on author panels and one of the nicest. This humour and personality comes across even in his crime thrillers which often have a quirky or black humour to them. He takes a unique premise or setting (mushroom farm, Finnish beach, meteorite) and then puts his foot on the pedal and blasts the reader out of their reading comfort zones. His writing is smart, funny and fresh and he's brilliantly translated so this all comes across in English thanks to David Hackston.
Can I mention his shirts? He's one of the best dressed authors this side of Finland. Go see him if you get the chance – and read his books to see what I mean. Memorable each and every one!

This author is one to watch. She's brilliantly sharp at writing about some of the most tricky and most personal stories in the crime fiction genre. She's got Spanish heritage and is married to a Swede so the scope for personal stories and history is good from the start. In Block 46, she writes about the concentration camps during the war and her family's experiences….. very unique to read something this personal in fiction, but it's written with such raw passion you just have to read it. Blood Song, her latest novel once again looks at a dark period of history but her writing and perceptions of human emotions really bring these stories to the top of any good TBR pile.

Destination Norway
Thomas Enger's Henning Juul books are top thrillers and don't miss his YA novel that taps into the dark corners of a school killing in Norway. He's a top  musician as well and I've seen him play piano at a author event as well as talking about his books. IS there no end to this man's talents!?
Then there's Kjell Ola Dahl. He writes thrillers about the Oslo detectives Gunnarstranda and Frølich. Recently his standalone The Courier has been the book to affect me. It's dark, immersive and paints a fascinating picture on how Jews in Norway were sent to the concentration camps. You realise about how families were separated and went through unmeasurable trauma whilst showing remarkable strength. His writing and novels are really something  special.
Gunnar!! Oh whatever you do, don't miss Gunnar. Top author in his native Norway, he's even got a statue of his main character Varg Veum in the city of Bergen where his books are set. Scandi fiction can largely be set in Oslo, so Bergen is a nice change.This city has some very dark corners! But thrilling characters and to die for landscapes!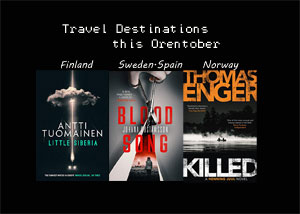 More to come this #Orentober.
Be sure to travel this month with Orenda to celebrate!