Mystery set in a Scottish Castle M B Shaw
Murder at Pitfeldy Castle, Scotland
Hands up if you would love to spend time in a Scottish Castle solving a mystery? This is exactly where Murder at the Castle takes you, to a place tucked away in the Scottish Highlands. There's murder, a mystery and a good-old fashioned sense of exploring a wild Scottish landscape with some very interesting characters.
Setting: A fictional Scottish Castle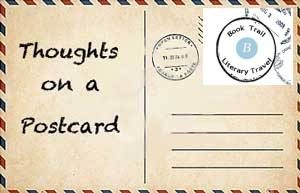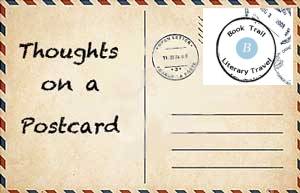 #Bookreview
Head to a castle in the Highlands of Scotland
I was in the mood for a castle based mystery and so this landed in my lap and thank goodness it did! Not only did I get to spend time in a castle with wood-panelled walls and dark shadows around the corners, I also got to travel a bit to Venice. That was unexpected but very good how the two story threads and the settings joined to form one interesting picture.
Iris Grey is the main character who I immediately liked. She's an artist, a portrait painter in fact who has been invited to Pitfeldy Castle in the Highlands by Baron, Jock MacKinnon. He has commissioned her to paint his fiancee, an American socialite Kathy Miller. She is a socialite and more used to the fashion houses of New York than raw and wild Scotland. That sounded like a good mix, so my interest was peaked from the start.
As for the baron, he's a bit of a strange one. First and foremost, his children do not like the fact he is getting married. Lots of family tension and drama. It was interesting to see how the baron was regarded by the locals, the villagers. They all think that Kathy is just out for his money. Well, Iris starts to have a nosy around, once in the castle's walls. The truth is, that you really don't know what is going on behind closed doors….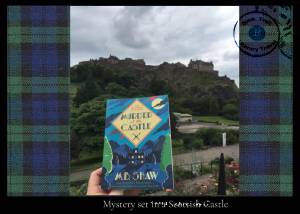 Well, Iris soon gets involved in family secrets, drama, intrigue and a whole lot besides. I enjoyed how the author created the contrast between this chocolate-box village with the impending castle behind it. I could see the castle and the baron looking out over his land and people. Interestingly, I was one of the villagers looking up at the castle wondering what secrets and shenanigans we would find locked up inside the walls. Plenty as it turns out.
The story took me on a very enjoyable ride. From the tartan cover to the wonderfully vivid descriptions of Scotland, it was very atmospheric. Oh and let's not forget Venice! I enjoyed bobbing along the Grand Canal with one of the characters on our way to another part of the mystery. I felt very much a part of an immersive story. All in all, this is such a good tale, red herrings, atmosphere and a great sleuth in Iris.
I read this in Scotland, close to Edinburgh Castle or was it Pitfeldy Castle? That really enhanced my reading experience !

Facebook:   facebook.com/tillybagshawebooks   Web: www.tillybagshawe.com/