Murder at the Castle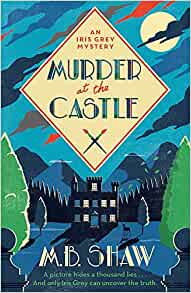 Why a Booktrail?
2000s: A wedding at a castle…and a murder to go with it.
What you need to know before your trail
Iris Grey arrives at Pitfeldy Castle in the Highlands, at the request of the Baron, Jock MacKinnon. Jock has commissioned Iris to paint a portrait of his fiancé, an American socialite Kathy Miller, ahead of their New Year wedding.
Kathy invites Iris into her confidence, she's received a series of threatening notes asking her to call off the wedding. Iris begins to investigate, and when remains are discovered in the grounds of the Castle, she fears for Kathy's safety.
With the wedding fast approaching, Iris once again enters a world of family feuds, romantic intrigue, buried secrets and murder.
Travel Guide
A BookTrail of Castles in Banffshire Scotland
The castle in the novel Pitlfeldy Castle in Banffshire is fictional for obvious reasons. There are however plenty of castles you might want to see and pretend you are in the centre of the story.
Ballindalloch Castle, known as the "pearl of the north", is a Scottish castle located in Banffshire, Scotland. It has been the family home of Macpherson-Grants since 1546.
Craigievar Castle is a pinkish harled castle or fortified country house 6 miles south of Alford, Aberdeenshire.
Craigston Castle is located near Turriff, in Aberdeenshire, Scotland, and is a historic home of the Urquhart family. It was built 1604–07 by John Urquhart of Craigfintry, known as the Tutor of Cromarty.
BookTrail Boarding Pass: Murder at the Castle
Destination/location: Scottish Highlands, Banffshire, Venice  Author/guide:  M B Shaw Departure Time: 2000s
Back to Results