Meet Elizabeth Zott for Lessons in Chemistry – Bonnie Garmus
Chemistry and cooking with Elizabeth Zott
If there is one book you buy this year – this should be it. I have decided to post this review today, July 4th, American Indepedance Day, as I believe Elizabeth would approve. Independence is the key theme throughout this novel.
In BookTrail terms, it doesn't even have a sense of location but I was that blown away by it that it takes pride of place on my shelf and I can't stop thinking about it. I have had it for some time and kept looking at the nice cover. A link to chemistry fascinated me. This is not the kind of subject you read about much in fiction. I have never been that good or interested in science but Elizabeth Zott……..now she has made me see the world differently.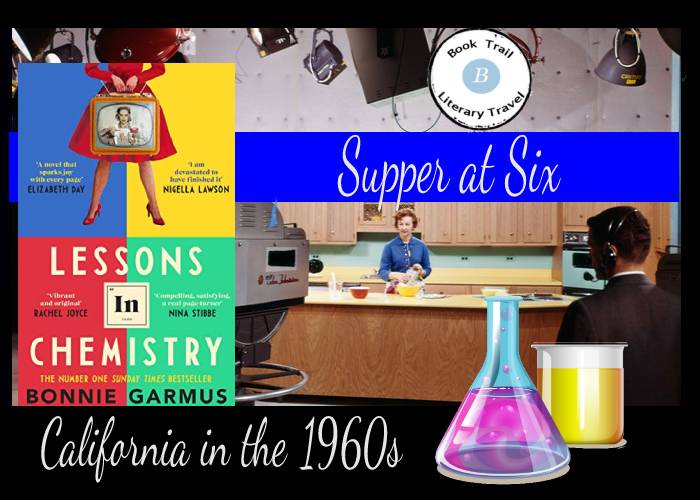 Boarding Pass Information : Lessons in Chemistry
Destination : California
Author guide: Bonnie Garmus
Genre: fiction
Food and drink to accompany: Mushroom soup as made on the TV show Supper at Six!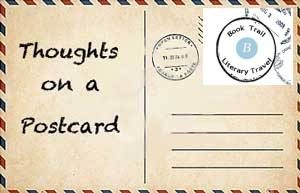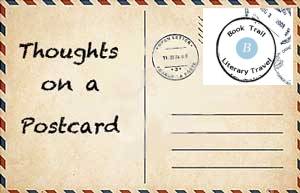 @thebooktrailer
#Bookreview
I'm not normally lost for words but this novel has floored me. It's genius – funny and quirky, clever and poignant whilst also being serious, insightful,  heart-breaking and hard hitting.  There's themes of chemistry of course and cooking, love and motherhood but really, this is a novel about one thing – Elizabeth Zott. In fact, all the Elizabeth Zotts in the world.  All women in the world.
Quite simply, this novel reveals in all its ugliness the way the world works when no-one questions anything. When people accept bullying, telling women they can't work, have children outside of marriage and when people moan about things but don't do anything to try and change it.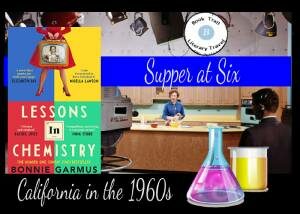 Elizabeth is considered odd by many. She works in science but her work is stolen by a man who then takes credit for it. She is forced to quit the job she loves because of something someone else does. She is offered a TV show but then told how to act on it. She is constantly told she is different but then someone loves her for who she is. She has a dog called Six thirty. A daughter named Madeleine whose name is  just 'Mad' on the birth certificate due to a quirk of time.
I have never honestly laughed and cried so much when reading a novel. There's a scene when Elizabeth is making coffee. Nothing unusual about that, you might think. Well, Bonnie Garmus has written it in such a way that I actually sneezed the coffee I was drinking out of my nose. Bet Zott would have a field day explaining how that all happened! Oh and then there's a scene with mushroom soup.  Reading this beside my open window, I alarmed a passer by at this point. Elizabeth has a razor sharp wit, putdowns all putdowns…but do you know what? She is honest and true and so, you can't help agreeing with her. The woman has a point!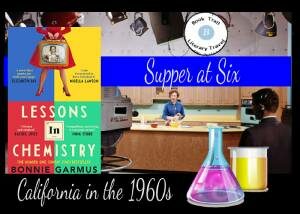 In the movie version of this book which played in my mind, a picture of a woman came into my head and it was a mix of the author herself and Meryl Streep. Now Meryl would be ideal to play the woman with the straight face when delivering some of the funniest put downs or mere truths you ever did here. Elizabeth's brutal charm and honesty could only be delivered by her I think.
I have to mention Mad and Six-Thirty. Stars of the show. The dog has sass – has a word count of words he recognises! Mad draws a family tree with a difference. She goes to school and questions her teachers, finds notes in her lunchbox from her mum which say things like this:
"It is not your imagination, most people are awful."
Elizabeth sums up what it is to fight your corner, question everything and accept nothing. What is was like to be a women in the 1960s and sadly, some things have remained the same. She is a breath of fresh air as is this book.
Supper at Six with Elizabeth Zott and Meryl Streep – has a ring to it, don't you think?
Twitter: @BonnieGarmus   Web: www.bonniegarmus.com/