Lessons in Chemistry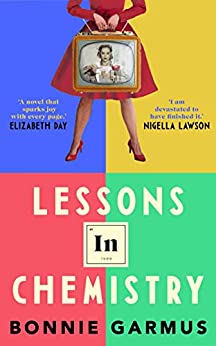 Why a Booktrail?
1960s : Meet the unconventional, uncompromising Elizabeth Zott.
What you need to know before your trail
Chemist Elizabeth Zott is not your average woman. In fact, Elizabeth Zott would be the first to point out that there is no such thing.
But it's the early 1960s and her all-male team at Hastings Research Institute take a very unscientific view of equality. Except for one: Calvin Evans; the lonely, brilliant, Nobel-prize nominated grudge-holder who falls in love with – of all things – her mind. True chemistry results.
But like science, life is unpredictable. Which is why a few years later, Elizabeth Zott finds herself not only a single mother, but the reluctant star of America's most beloved cooking show Supper at Six. Elizabeth's unusual approach to cooking ('combine one tablespoon acetic acid with a pinch of sodium chloride') proves revolutionary. But as her following grows, not everyone is happy. Because as it turns out, Elizabeth Zott isn't just teaching women to cook. She's daring them to change the status quo.
Travel Guide
California and a scientific bakeoff!
The Hastings Institute is the setting of the novel as it the Bake Off Style landscape of the cookery shows on TV. The real setting is the changing status quo for women in 1960s America.
The sunny disposition of California however does shine through. What really shines however is the way that Elizabeth stands up to her peers and her male colleagues in 1960s America when women were expected to stay at home and raise children. She wanted to be a scientist and she was a good scientist.
There are messages in this book and snippets that are sadly still relevant today. Science and cookery in a TV show – never before written in a novel like this before. It's a breath of fresh air. Wait until you read what the fuss with mushroom soup is all about!
BookTrail Boarding Pass: Lessons in Chemistry
Destination/Location:California Author: Bonnie Garmus Departure: 1960s
Back to Results