Location Location Location at Granite Noir
Granite Noir kicks off in exactly twelve days time. One panel in particular is BookTrail in nature so I'm taking a closer look today in preparation for the big event itself:
Why is the right location important for a novel?  Is it is as important as identifying the killer?
Doug Johnstone's new novel Crash Land is set in Orkney, while Sarah Ward's A Deadly Thaw takes place in the Peak District.
Doug has said himself about Orkney: "Orkney is tremendously atmospheric, and all the old archaeological sites. . . give a real feeling that the past is absolutely intertwined with the present in everyday life. There's an innate sense of claustrophobia, that exists on islands that's hopefully tailor-made for tense and suspenseful writing."
As a booktrailer, I think what works with Crash Land is that it's a psychological thriller with guilt, murder and other very raw emotions punched into every page. Now where best to have such emotions and the theme of loss and isolation? If someone appears to be running from someone, where better to have them disappear than a small remote island following a plane crash?
"Orkney was stupidly beautiful, like God wanted to concentrate all his dramatic views views in one small archipelago halfway to the Arctic".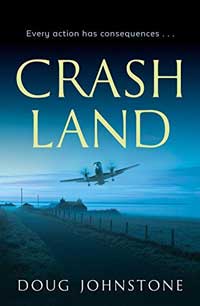 Not a read for those who fear flying mind……
This novel starts off with a small plane taking off and then subsequently spiraling into the crash land of the title. Those little planes where you practically have to wind up the propellers yourself scare me anyway and the fact it was setting off from a remote island just put the fear of fears into me.
Well, that small plane soon becomes trapped in the inclement weather. Turbulence and fear ensue. Blimey I'm not a bad flyer but I admit I felt a bit sick even at this early stage! When the plane goes into a tailspin well put down anything you may be eating and drinking whilst reading otherwise you'll get it all over you.
The island comes into its own with the mix of past and present coming to the fore – and the story of the characters matches that. There are so many ancient remains scattered across the islands, bridges that are closed when the weather gets too bad so the isolation ramps up even more.  The Churchill barriers in the photo for example are low slung roads that are often closed off so that  isolation becomes almost a prison….and the story of two fugitives in this sort of landscape is a perfect  literary storm. Even the buildings and tourist attractions on this island take a starring role – their link to the mysterious and mythical past add to the overall sense of how landscape and story can mix to give explosive results.
There's a world heritage spiritual setting here too – which again mixes the fact, the fiction and that strange ethereal world in between.
Crash Land is a novel which more than makes Orkney the indispensable star of the show
Bampton where this and the previous novel In Bitter Chill is fictional which when you realise what goes on there, you really wouldn't want to go there anyway, But by having a fictional village in a very recognisable place is clever from the get go.  You know this place, have probably been but it's this fictional place where you don't know, that causes that little frisson of fear…
Sarah explains why she choose Bampton: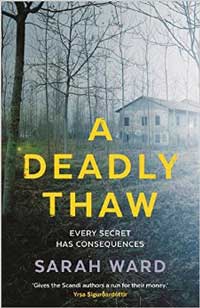 "Crime fiction has a great precedent of the use of fictional places from Agatha Christe's St Mary's Mead, Ruth Rendell's Kingsmarkham and Sophie Hannah's Culver Valley. The reader comes to these locations without any fixed preconceptions and it is up the writer to bring these places to life. I didn't want to be bound geographically by a real-life town but, at the same time, I wanted Bampton to reflect three important elements of Peak Towns."
With the mix of real life locations such as Buxton and Caudwell Mill (which she calls Fearnley) in Rowsley the mix of fact and fiction really help you as a reader to see the place come alive before your eyes and to really believe that Bampton might be real. When you see where bodies are buried and feel the raw, chill of the landscape, then you're practically in the killer's shoes and that is a heck of a place for a crime reader to be.
Where this book really worked for me was the link between location and plot – a beautiful part of the UK which in winter can turn into a dark and chilling, foreboding place –  even the cover is shrouded in mist and fog. But when you go to a remote mortuary and find a 'fresh' dead body, a body that shouldn't be there, it becomes the remote and rural unforgiving place in the novel.
Friday 24 February 2017
VENUE: The Lemon Tree, Aberdeen
TIME: Starts 3.30pm | Finish 4.30pm