Daughters of War set in Dordogne By Dinah Jefferies
Daughters of War set in Dordogne
If there is any author you want to transport you to Dordogne and a story of family, hardship and war, with a human angle, then Dinah Jefferies is the one you need. This novel is about three sisters who live in Dordogne during the war. France is under German occupation and the three sisters want to keep each other safe. However, then the Nazis arrive in their village…..
Setting: Dordogne during the war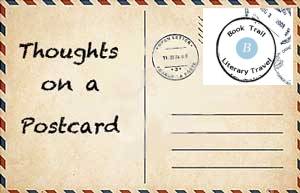 #Bookreview
The first in what I can say is going to be one fine series. Three sisters, Helene, Elise and Florence Baudin live in a valley in Dordogne, France. Their father is dead and their mother back in England. Helene as the oldest is now the caregiver of the family and does everything in her power to keep them all safe. She practically puts her own hopes and needs to the back of her mind and ensures that the sisters' needs are taken care of. They are stuck in France and so can't go to England but they are stuck in a strange situation as being only half French, they feel they are going to have extra problems living in France during war time.
I loved the story about the three sisters. Dinah has given each of them a clear voice and I felt I knew every one very well by the end of the novel.  One works for a doctor, another has a cafe and the third is a homemaker. Life in the village is fascinating and there is so much detail carefully crafted into this novel. I can't imagine what life must have been like living in such a situation. Three sisters, half French and half English who are left alone to care for themselves.  Three sisters who have to navigate life in a village at the time of the German invasion. Life is hard, and the losses great. What struck me was the community spirit in the family and amongst the villagers. This is such a detailed and well painted picture of what life must have been like during the German occupation.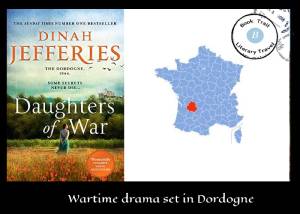 I've read many stories set in France during the war but never one that is so touching and moving. This was  a special story with three sisters in such a rural and stunning part of France. I felt the contrast of the stunning landscape and the ugliness of war particularly well done. Dinah really got under the skin of her characters and the country at war and she painted quite the picture of war and the human emotions behind it. I have to say that there are certain scenes that are particularly heartbreaking and the ones involving rape and killing will make you cry. This is the true face of war sadly but to read it in this context really brings it home to you.
This novel is multilayered and well structured, detailing the horrors of war but also the touching human moments. I love the way Dinah has such a skill at bringing her characters to life. Giving them a voice, giving war a real face and bringing the hidden stories to the fore.
I am so pleased this is the first in a new series. In the hands of such a skilled author, we are in for a treat!

More books set in France
Twitter:  @DinahJefferies  Web: www.dinahjefferies.com/