Darjeeling Inheritance set in India by Liz Harris
Darjeeling Inheritance by Liz Harris
This is a novel that you have to drink tea when you are reading. It's so immersive of time and place, of the tea plantation in India and what living and working on one involves, that you will be crying out for some kind of tea to really place yourself in the story.
By the time I had reached chapter 5, I had a teapot. I was invested in this novel and wanted to go the full journey with the right kind of refreshments.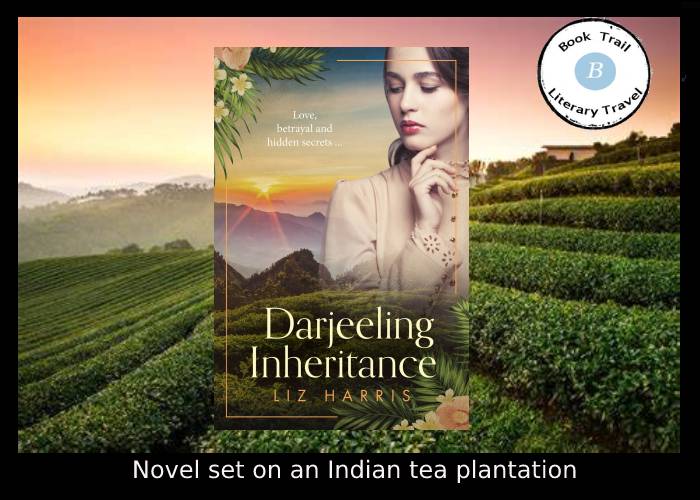 Setting: the tea plantations of India

#Bookreview
Darjeeling Inheritance set in India by Liz Harris
A novel full of flavour! I was invested in this novel and wanted to go the full journey with the right kind of refreshments. In Booktrail terms, this was an easy setting to engage with. The author has meticulously drawn an evocative world in which we can linger and really get to know. I felt I was in an oil painting, with the blurred colours and the cultural nuances. That's not to say the story paints over the poverty and the struggles of those living and working on the plantation. It doesn't and we get a fuller picture of the time and place because of it. A fuller brew if you like.
The plot follows Charlotte who returns home from boarding school to find her mother even more distant than normal and her father dead. She is now in charge of the planation and all that it entails. Expectations at that time where that she should marry a fellow plantation owner. Charlotte of course wants to take her own path. This being set at the time of the British Raj allows us to see the world through Charlottes eyes at a very distinct period of history. It's a fascinating one to be sure.
I realise it's a cliché to say that Charlotte goes on a journey, but she does. As the reader, I went with her and I followed her story with interest. When her chaperone marries a plantation owner, I found the two women had taken very different paths but that I was able to see both sides of a very tricky situation.
An immersive world in both story and history. Pop the kettle on and settle in for a wonderfully evocative journey to India's tea plantations.

Twitter:  @lizharrisauthor     Web: //lizharrisauthor.com/