Travel to London and The Secret Letter with Kerry Barrett
Follow the Trail of The Secret Letter with Kerry Barrett
This is an exciting trail – your own personal guide is the author Kerry Barrett who offered to take us inside the novel and around it's secrets as it reveals London's streets and the memories of the past. The Suffragette movement features heavily and it's a really interesting way to delve into the time and place of a very important part of history….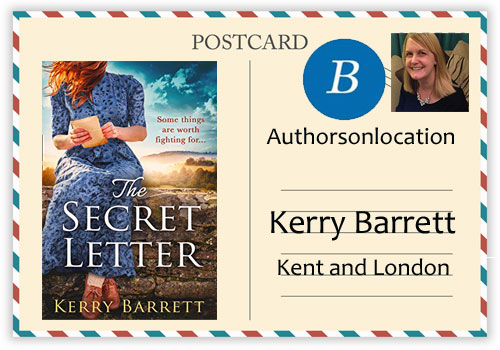 Westminster, London
While The Secret Letter is, of course, a work of fiction, it's rooted in fact. Esther's story of doomed love and difficult choices may have come from my imagination, but her Suffragette experiences are real.
The climax of the novel takes place on what became known as Black Friday in November 1910. This was, of course, something that really occurred. I read lots of newspaper reports from the day to get a sense of what was happening when the Suffragettes marched on Parliament and were attacked by the police and the crowds.
So the setting of those final few chapters of The Secret Letter is vital in several ways, not least because that's where the action really took place. If you take a walk round the locations mentioned, you're not only following in Esther's footsteps but in the footsteps of the real Suffragettes who took part in the protests that day.
The other reason the setting is so important, is because Esther's a Londoner. She even says at one point that she's never been outside the capital city. She knows London back to front and upside down, and she's at home here – until she's forced to leave.
The Secret Letter's Book Trail is all based around Westminster. It's a setting that's familiar to everyone the world over, but seeing it through Esther's eyes means seeing it in a different way. For the Suffragettes, the House of Commons wasn't somewhere to admire, or look up to. It wasn't the mother of parliaments or an example of democracy. Instead it was somewhere they weren't welcome. A place where men made laws that benefited other men, without care for the women who would also be affected.
We start our walk at Caxton Hall, on the corner of Caxton Street and Palmer Street. It's a red-brick building that is now luxury flats so unfortunately you can't go inside. It was a popular meeting spot for the Suffragettes and they marked each new parliamentary session from 1907 with their own women's parliament gathering. That's what they were doing in 1910 when they got the news that prime minister Asquith had, instead of supporting women's suffrage as part of his Conciliation Bill, called a general election. That meant suffrage was further away than ever, and the Suffragettes decided to march on Parliament and make Asquith listen to their concerns.
As an aside, Caxton Hall was a register office in the 1960s and 70s so it's also seen the weddings of lots of fabulous British celebrities including Diana Dors, Joan Collins, Adam Faith and Ringo Starr. If its walls could talk, eh?
From Caxton Hall you can cross the road to see the Suffragette memorial. It's a bronze scroll in Christchurch Gardens. The inscription reads: This tribute is erected by the Suffragette Fellowship to commemorate the courage and perseverance of all those men and women who in the long struggle for votes for women selflessly braved derision, opposition and ostracism, many enduring physical violence and suffering.
I'm not sure about you, but I really think women should have come first in this inscription. But it's good to have something that commemorates the Suffragettes' struggle, I think, even if it's not perfect.
At the moment, they are redeveloping Christchurch Gardens are being redeveloped so you can't get up close to the memorial, but hopefully it won't be out of bounds for much longer.
From there you can wander down to Parliament Square, where the Suffragettes gathered and where the crowd and the police attacked them. You can look up at the heavy gates and imagine the fearless women clambering over the people who tried to stop them, as they fought to get into the House of Commons.
And while you're in Parliament Square, take a moment to visit the statue of Millicent Garrett Fawcett. She was a Suffragist rather than a Suffragette, if we're being picky, but she was vital to the fight for women's suffrage. Her statue was erected in 2016 thanks to a campaign by Caroline Criado-Perez. Around its base are the images and names of 55 other women and men who were instrumental in winning votes for women.
Thank you so much Kerry for such a fascinating tour of London via your novel!
Twitter: @kerrybean73   Web:  kerrybarrett.co.uk/