Malborough Sounds New Zealand with Alan Carter
Nick Chester lives on the side of a steep hill in a timber house in the Marlborough Sounds at the top of the South Island of New Zealand….and Alan Carter, the other Malbourough Man is going to tellus more about where he sets his novel and why…
The  Marlborough Sounds
If the river isn't flooded and the land hasn't slipped, it's paradise. Unless the local logging magnate is intent on destroying your view. And unless you are hiding from a ruthless man with a grudge, in which case, remote beauty has its own kind of danger. While Nick waits for his past to catch up with him, he works as a sergeant for the Havelock police patrolling the local highway SH6 for speeding motorists, chastising trigger-happy hunters, and tackling local who are desperate enough to shove a hot cooked chook down their daks from the local supermarket. But it's not only Nick who is experiencing trouble in paradise. In the last couple of weeks, two local boys have vanished. Their bodies are found but the perpetrator, dubbed by the media as the Pied Piper, is still at large. Marlborough Man is a gripping story about being the hunter and the hunted, and about what happens when evil takes hold in a small town.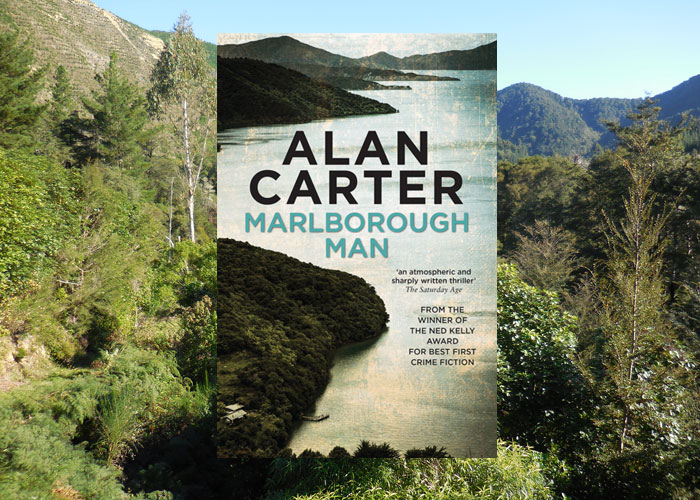 During the first 18 months after arriving at our "Treechange" hobby farm in the Top of the South a lot happened – earthquakes, floods, farm accidents – and a new book. In terms of writing, the plan was to continue the 4th Cato Kwong book – my crime fiction series set in Western Australia featuring detective Philip 'Cato' Kwong. Then, and only then, write something else – something new. But almost immediately the 'something else' elbowed its way to the front and Cato took a back seat. How come? My spectacular view out the window over the Wakamarina river, its gold rush history, the present-day beauty and serenity interrupted occasionally by loggers and hunters, the tough and generous people, the capricious weather – the huge difference between where I am now and where I was – bright, sunny, flat, comfortable Fremantle – Australia. All ganged up on me to inspire a new crime novel and possibly the beginning of a new series set in, you guessed it – Top of the South. Still, my hero would be, like Cato (and myself), a man out of place – although in this case a real outsider from somewhere else – somebody in hiding – and the Wakamarina valley seems like a good place to hide.
They say write what you know and make up the rest. In writing Marlborough Man what I knew was what I could see out of the window and from driving and walking around the area. The fjord-like Marlborough Sounds have something like 2000 kilometres of coastline crammed into a small area at the top of South Island. Imagine that, almost the width of a continental coastline transformed into hidden coves. A perfect place to hide a person, a body, and a host of secrets. But as well as the picture postcard aspect there are stark and jarring contrasts: hills and mountains denuded by logging, industrial-sized vineyards stretching to the horizon where trees are a distant memory and rivers have been sucked dry for irrigation. And anomalies, strange, sinister and sad at the same time like the shoe fence just outside Havelock. A few hundred metres of farm fence strung by old shoes. All found their way into Marlborough Man.
Contrasting the scenery Nick Chester finds himself in, I drew upon childhood memories to paint a picture of where he came from – Sunderland, in North-East England. It's where I was born. My dad worked in the shipyards (now closed) and I, like Nick and his gangster target Sammy Pritchard, went to Monkwearmouth School. Theirs is a world of pubs, curry houses, the football ground, and a geological landmark that became a metaphor for Sammy's soliloquy on the nature of trust. Marsden Rock, just north of Sunderland on the coast. Little wonder that with such an upbringing I had little trouble imagining Nick Chester's sense of displacement in a remote valley on the other side of the world.
Soon after locking off the manuscript a 7.8 earthquake shook me out of bed and cut Kaikoura off from the world.  It's a place Nick visits a few times on the trail of the killer – the coastal drive is one of the most spectacular I have seen on my extensive travels over the years. The next day a flood cut our community off for a while. And a month later a wind-felled tree got the better of my wife Kath and a chopper landed in our paddock to whisk her to hospital with a broken leg. The journey is normally an hour by winding mountain road. In a helicopter it's just eight minutes away over a few hills. As W.B. Yeats (I think) once said of Ireland – "a terrible beauty is born" – and sometimes NZ can feel that way too. A beautiful, poetic, spectacular, tough and sometimes unforgiving place. Perfect setting for a crime novel.
Many thanks Alan! It looks absolutely gorgeous!
Twitter: @carter_alan28