Lucinda Riley talks Beatrix Potter, England and more
Lucinda Riley's third book in the Seven Sisters comes out on Thursday and it's just brilliant. Her storytelling, the way she weaves historical fact and fiction together…and Beatrix Potter makes an appearance in this book in a very unusual way..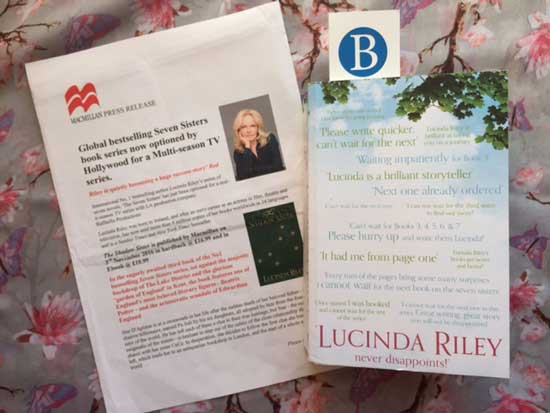 Hi Lucinda. So happy you've popped over to see us on your busy Storm Sister tour!
Your third Seven Sister story is about Star.  Star really comes into her own during the novel as she breaks away from her sister and becomes more independent. Could you tell us more about this sister in relation to the others?
When I first started writing from Star's perspective, I found it a bit more difficult to get a sense of her voice – having come straight from writing Ally's story, it was a big change. While Ally is confident and forthright, Star reveals very little of herself to other people – which makes dialogue quite tricky! But the more I wrote, the more she opened herself up to me, and I adore her. She has a biting wit and quick intelligence, a passion for books and she cares deeply for her loved ones. Throughout The Shadow Sister, she faces some tough challenges that ultimately lead her to become braver and more sure of herself, and I hope the reader will be rooting for her as much as I did.
You weave some fascinating stories into the novel -such as the inclusion of an old bookshop in London and a friendship with Beatrix Potter. How did all these threads come into your mind and why did you choose to weave the together like this?
As this was the first novel in a long time to be mainly set in my native England, I wanted to include my favourite things that also hold cultural significance. And I believe that one of the greatest things that Britain has given to the world is its literature. I adore rare and antique books and I'm an avid collector myself, so inventing Orlando's quirky bookshop gave me the chance to live out my own fantasy. I had already decided to set the story partly in the Lakes, as it's such a stunning part of the country and a contrast to the more mellow southern countryside – and of course, Beatrix Potter is a national icon, to whom we owe a debt for preserving so much nature for the National Trust. My children grew up with her stories, and I wanted to know more about her life.
Beatrix Potter's story really fascinates. What kind of research did you do and is anything based on fact or something you discovered?
Fortunately, there are a lot of Beatrix Potter scholars who have written very insightful books on her life and works – perhaps my favourite of the many I read is Marta McDowell's Beatrix Potter's Gardening Life. I also had the privilege of getting advice from Catherine Pritchard, one of the curators at Hill Top Farm in Near Sawrey, (see image above) who is so knowledgeable on all things Beatrix Potter. Although I did take some artistic liberties with Beatrix's relationship to my fictional Flora, all of the dates, facts and details are based on meticulous research. Beatrix's life story is at times heart breaking – I think my favourite detail is that after the death of her beloved fiancé Norman Warne, she wore his engagement ring on her right hand for the rest of her life, even after marrying William Heelis. When she lost the ring in the Post Office Meadow Field sometime in the 1920s, everyone stopped work to help her find it.
Do you have a clear picture of what the six (or seven) sisters look like and now they're going to be on TV – will you have any say in who gets the parts?
Yes, the sisters are all fully-formed in my head, and I am so looking forward to seeing them come to life on the screen. As executive producer, I will be advising on aspects of the television series, and will have some input on the casting. Although, I will always remember what its like to be on the other side of the casting table, having started off as a young actress myself!
Star and Flora's story weave so wonderfully together. How do you even start to plot a story like this? When especially you weave in details of other sisters such as Ally into the story as well?
As always, I began with writing the past section of the book, so I am essentially writing it chronologically. When I begin speaking the first draft onto tape, the story comes together organically – it is as if the characters take over for me, and they know exactly what to do. Once I have completed the first draft, the editing begins, and at this point I smooth out the continuity, making sure that all the parts fit together well.
Which book would you yourself like to do a booktrail of  – ie visit the locations within it and why?
I'm currently reading 'A Great Reckoning' by Louise Penny. The Chief Inspector Gamache series is one I got hooked on eighteen months ago and I'm now on number 12. I love him as a character and also the wonderful descriptions of Québécois life, especially the food. Essentially, I want to move to the village of Three Pines.
Which fictional character from a Roald Dahl book are you most alike? (Question for the 100th anniversary)
I think I'm a bit like the Grandmother in The Witches – fiercely protective over my children, and keen to rid the world of all evil (and any witches that come into my path!)
With many many thanks to you Lucinda! An epic tale that is highly recommended here!!
Twitter: @lucindariley  Facebook: /Lucindarileyauthor  Web: lucindariley.com