Literary Locations of Will Carver
The World of Will. Carving out places where fear lives.
Literary Locations of Will Carver – I've read some books over the years that have taken me places I have never imagined I would go. Places I would never want to go. Places so alien and dangerous I would be afraid of going….
However, that's where good books come in, as you can visit the darkest, scariest places via the pages without going there for real. So when Will Carver offers visits to the Samaritans, a cult and a village where Evil stalks everyone, I'm one of the first in the queue. I mean it's Will Carver. There's not many writers I would follow to these places. He must be the Pied Piper of the horror genre.
Take care out there as you follow in Will's footsteps….. Let's go together eh? There's safety in numbers, right?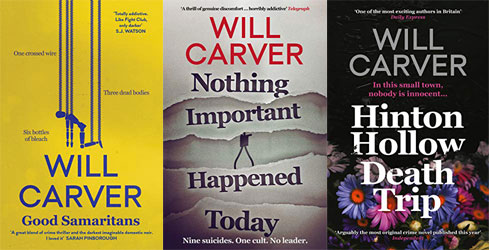 Setting: Your most vulnerable place, at the end of a phone line
This book didn't have many locations in, although the book is vaguely set in Warwickshire. What was really chilling was the way I was invited, lured in fact, into the hub of the Samaritans, or what I thought was the confidential listening service for people in need. Turns out, it wasn't them, but someone posing as a helper and instead twisting the knife into some of the most vulnerable out there.
Disturbing stuff. The setting of secret, late night telephone calls, thinking that there's a friend on the other end of the line is chilling. Imagine when you are at your most vulnerable, feeling low, dark and afraid. That's the setting carved out here…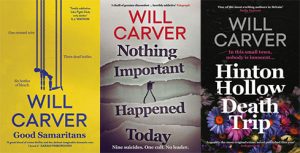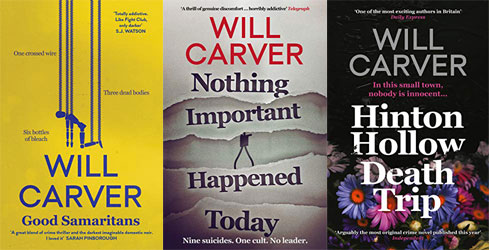 Book Setting: A cult you don't know you are part of
London. Don't read this near any of the bridges. People in this novel are chucking themselves off at a specific time and day. They've been sent a message and they know what they have to do. Are they in a cult somehow? Why would they do this act alone? How brainwashed are they? Why can no-one stop them? And how do they not know they are in a cult at all?
Jeepers, this messes with your head, the perception of what a cult is and what it means. There's so much to talk about in this book and it's as equally as unsettling as the first. London might be the location but the real lure is the setting of mind control, cult behaviour and what goes on in your mind….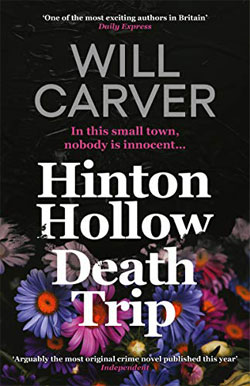 Literary Setting: A small town where Evil stalks the streets…
Hinton Hollow is the place on the map here. A village/small town around an hour north of London in the Oxford direction. It's fictional of course and once you've read this, you'll understand why. You'd not want to go in real life as Evil visits and affects everyone who lives there. The population is 5120 but that number is going to fall….
Where does Will find these settings from? They're unsettling but oh so fascinating and very different to anything I have ever read. Don't be fooled by those lovely flowers on the cover. There's nothing remotely floral or happy about Hinton Hollow. Evil narrates the story of its visit and introduces us to a young boy whose death he witnesses, before visiting the mother, and then someone else, then someone else….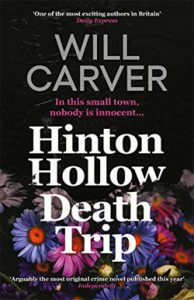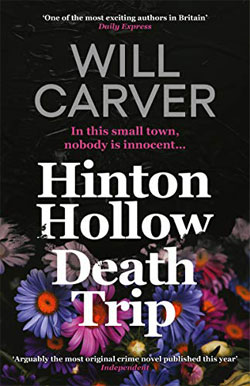 This book will make your head pin, your brain ache and you question everything you have ever believed in. How as a society do we view tragedy, justice, other people. Do you do what others do, are you easily led? Do you stand up for what you believe in?
Evil here is what we see, do and feel everyday. That snide comment, that abuse on twitter, the throw away actions that you never think are going to affect someone or come back to haunt you. Every day we are faced with decisions, regrets like in the film Closing Doors where any decision has more than one consequence and that every decision leads to another, to another…
There's a SEVEN feel to this – from the film where the seven deadly sins play a part. Humanity is the major player and our range of emotions our only weapon. But how do you fight evil in your midst?
Blimey this is a book of its own genre – and Hinton Hollow is definitely a place like no other.
You are welcome of course to visit any of the places via the books above. If you're brave enough. Don't miss out on your Carver experience. Where there's a Will, there's a way…
Twitter:    @will_carver