Hot Travel Tips for Desperately Seeking Summer – Mandy Baggot
Desperately Seeking Summer
This summer, if you're off to Greece, or even if you just buy Mandy Baggot's book and settle down into your favourite armchair…here's some tips from the mistress of Desperately Seeking Summer :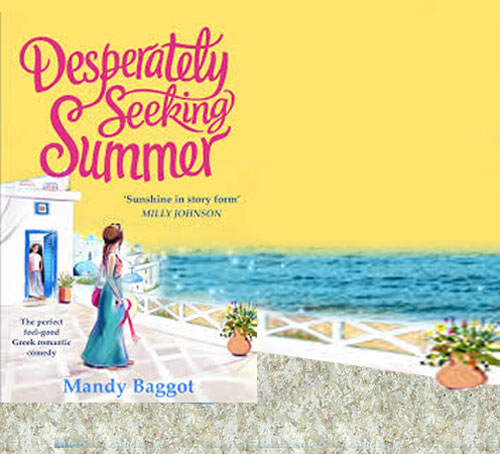 Research, locations and hot travel tips
Just in case you don't know anything about my summer reads and have never heard of my books at all, let there be no doubt… I LOVE GREECE! But I can narrow it down even more than that… I LOVE CORFU!
I am also lucky enough to own a house on my favourite gorgeous Greek island which lends itself very nicely to being able to do lots of research for my summer novels. So, how does the magic happen? Do I go looking for locations or do they drop into my lap by chance?
It's actually a little bit of both. My very favourite part of the island is the North so gradually I am introducing my readers to the villages, coves, beaches, restaurants and bars that I love to spend time in… luckily it is awash with fantastic finds in this respect. Desperately Seeking Summer is mainly set in the lovely, little (but well-frequented) horseshoe-shaped harbour of San Stefanos on the North-East of the island. This isn't to be confused with San Stefanos on the North-West of the island near Arillas. Corfu can be confusing like that! I spent quite a few hours there last summer, sitting in the harbour soaking up the atmosphere (as well as the white wine) shaping in my mind who my characters were and how they were going to fit into the village. I already had the basis of the story, it was just a case of making sure San Stefanos was the place… and very quickly, once I'd sailed in and out by boat, I realised it was perfect.
The other locations featured in the book are:-
Acharavi – this is the main town in the North of the island that stays open all year round. It has supermarkets, restaurants, pharmacies, shops of all kinds and also a lovely white stone beach. Here, Abby, Theo and a broken-down car have a moment…
Pelekito – this is the little hamlet where I have my house. It's also where I have created Stamatis' olive wood workshop, in amongst the olive groves on the approach to the village. Unfortunately, it is entirely fictional but was inspired by a wood workshop just down the road in St. Spyridon.
Sidari – this is one of the liveliest resorts in the North of the island and it is where Abby and Melody go to give out fliers to the estate agency party. Here you will find gorgeous beaches, the Canal D'amour with its breath-taking rock formations and if you love nightlife there are numerous bars, restaurants featuring everything from karaoke to professional tribute acts.
Logas Beach – Peroulades – this is just one of the most fantastic places to visit for a to-die-for view. Abby and Theo visit the 7th Heaven Bar above Logas Beach which has a glass walkway out over the rocks and a dramatic clifftop drop below. Again, the cliffs are like a work of art and the colour of the sea you'll find hard to believe.
Top Travel Tips
Research all the resorts. Find out which one is best for you for what you need/enjoy. Every one is different!
Eat Greek – try something new! The fish is as fresh as can be and you will discover that dishes involving courgette and aubergine taste so much nicer than they sound. Be bold! One of my favourite dishes is spanakopita – a spinach and feta cheese pie.
Learn a little of the language – Most Greeks speak amazing English, but they really appreciate you having a go with their language. There is a little glossary in the back of Desperately Seeking Summer that might help!
Take insect repellent – as Corfu is so wonderfully green it does have quite a lot of mosquitoes. Be prepared!
Get on the water – if you can, hire a boat. There is no better way to see this beautiful island than from the sea. You might even see a dolphin or two!
Make sure you have plenty of camera/iPhone/iPad storage for all those photos you are going to take!
Thank you so much for your wonderful travel based trail of Greece! Happy literary travels everyone!