#Authorsonlocation – Greece – Mandy Baggot
Single for the Summer – Mandy Baggot takes us back to Corfu, Greece
It seems I'm becoming the go-to girl for all books Greek and I couldn't be happier! Having now purchased a house in beautiful Corfu I have the perfect place for inspiration for more of my romantic comedies. Single for the Summer is my latest read – published 27 July – and it is set in the gorgeous beachfront traditional village of Kalami.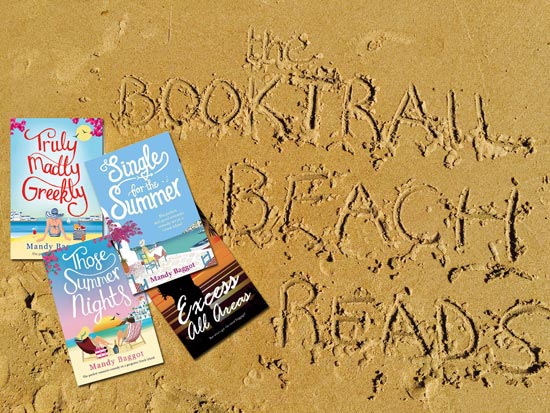 Mandy Baggot's BookTrails…….
Kalami
Kalami is a place I've visited often, usually via boat, from the equally alluring fishing village of Kassiopi. It's quiet, with a few shops and apartments and a couple of tavernas on the white pebble beach. It's a tranquil bay surrounded by cypress trees with that amazing mountain backdrop.
The heroine in Single for the Summer is serial dater, Tess Parks. She is never without a man on her arm but her relationships only ever last a maximum of six weeks. She doesn't do commitment and on this girlie holiday she has promised best friend, Sonya, she will stay completely and utterly single. But then she meets a rather sexy restauranteur in the shape of Andras Georgiou.
Andras is caught up in the middle of his brother, Spiros's, big, fat Greek wedding with their mother intent on making Andras the next groom. But Andras has been hurt before and has no intentions of being part of any matchmaking.
Andras's restaurant in the book, Georgiou's Taverna was inspired by Thomas's Taverna on the beach of Kalami with a dash of Nikolas's Taverna in the neighbouring bay of Agni. Many a home-cooked dish was eaten, along with copper flagons full of wine and Greek delicacies ending in the letter 'a', in the name of research.
Kassiopi
Another location in the book is Kassiopi. I have stayed here several times and, as it's five minutes' drive from my Greek house, we visit often. It has a pristine harbour full of fishing boats bobbing with the tide, several restaurants around the horseshoe shaped bay and bars right at the water's edge. It's a perfect spot for watching the world go by with an ice-cold Corfu beer.
Nissaki
On one of the boat trips Andras takes Sonya and Tess on, they sail down the coast to Nissaki. This is a lovely beach with fine white sand and shingle and aquamarine water perfect for snorkelling and seeing some of the island's fish. There are a couple of restaurants and a large hotel.
Agios Spyridon
The small village of Agios Spyridon is also featured in my novel, Truly Madly Greekly and in Single for the Summer it is the setting for Spiros and Kira's Greek wedding. It has two sandy beaches and a little chapel set at the top of one of them.
Paleokastritsa
The women visit the monastery at Paleokastritsa in Single for the Summer. I visited here on my very first trip to Corfu and I did have to wear clothes over my clothes just like Tess does in the book! Perched on top of a cliff, the monastery has some amazing views of the bays below and the peace, tranquillity and history of the buildings will help you embrace your inner Greek.
Come on a tour of so many more locations with  Mandy!!
This is my first Corfu-set book and I take the readers to that beautiful harbour village of Kassiopi.
This is the sequel to Excess All Areas and is set in Hollywood! It's not all razzamatazz though, Freya and Nicholas live in a quaint small-town on the outskirts.
The hotel in the book, Blue Vue, was inspired by a real-life hotel I have visited for many years, Mareblue Beach, Agios Spyridon.
In this book I take the reader to the town of Acharavi, Corfu together with visits to Arillas on the North West coast and the capital, Corfu Town.
It's a tour of New York in this uplifting Christmas book. The Guggenheim, the Statue of Liberty, horse-drawn carriage ride around the city, the Italian district, ice-skating at the Rockefeller Centre…
A special falafel restaurant, bistros, boutiques, a Seine cruise and, of course, the Eiffel Tower are all in this Christmas romance.
Many thanks to Mandy Baggot! Find her on line for more Travel inspiration to fuel that wanderlust!
Twitter:    @mandybaggot   Facebook: /mandybaggotauthor/     Web: mandybaggot.com