#AuthorsonLocation: Fact and fiction with Sarah Ward
Sarah Ward on creating Bampton – Creating a fictional place
My books are set in the Derbyshire Peak District which was Britain's first national park and a place of breath-taking beauty. It's an inspirational landscape and, for me, it's a joy to describe the changing seasons of the Derbyshire Peaks. The photo below shows the road out of my village in winter. It's wonderfully atmospheric and the encroaching mist invites you down that road into the story that you're about to read.
My books are a mix of police procedural and domestic noir. They have the same police characters who tell the story in alternate chapters and a different female protagonist in each novel who narrates the investigation from an outsiders point of view. I wanted the police to be based in a town and there are a lot of real-life locations to choose from. However, I decided to create a fictional town of Bampton for a variety of reasons.
Crime fiction has a great precedent of the use of fictional places from Agatha Christe's St Mary's Mead, Ruth Rendell's Kingsmarkham and Sophie Hannah's  Culver Valley. The reader comes to these locations without any fixed preconceptions and it is up the writer to bring these places to life. I didn't want to be bound geographically by a real-life town but, at the same time, I wanted Bampton to reflect three important elements of Peak Towns.
The Peak district is a huge tourist attraction with over ten million visitors every year. Towns such as Bakewell cater for these tourists with an array of gift shops, delicatessens and tea rooms. It has an elegant square that I use for the opening of In Bitter Chill  and a strong sense of community that I imbue in my books.
Up the A6 towards Manchester, Buxton is a town with a different feel to it. It was a thriving spa resort in the nineteenth century and the elegant Georgian buildings remain. Most of the architecture I describe in Bampton is inspired by Buxton. The current state of the town is a far cry from its heyday shown in the painting below but the famous crescent is being regenerated and the sense of a town aware of its own importance remains.
We also have a strong industrial heritage in the peaks with mills that, although no longer being used for their original purpose, have been regenerated into shopping areas, housing and museums. I love industrial architecture and incorporate it into my books. Here is Caudwell mill (that I call Fearnley) in Rowsley that is used as inspiration in A Deadly Thaw for the location where a body is found.
You can have as much fun creating a place as using a real life location. My neighbours and those who know Derbyshire well say that Bampton has the feel of a Peak town and that's as good a compliment as it gets.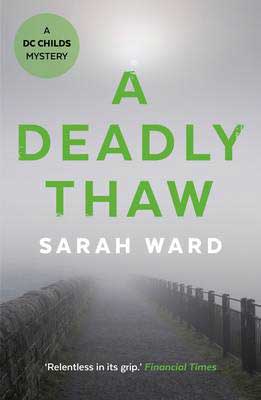 With thanks to the lovely Sarah Ward for sharing some location secrets. Don't forget to put A Deadly Thaw on your TBR pile ASAP!
Booktrail Boarding Pass: Sarah Ward  – A Deadly Thaw here
Twitter: @sarahrward1 Facebook: /SarahWardCrime    Web: crimepieces.com