Travelling with Dan Brown
The Da Vinci Code by Dan Brown was very popular when it was first released in 2004 and long after.However it was also widely criticised, especially by the Church as it questions the existence and indeed the origin of the Holy Grail.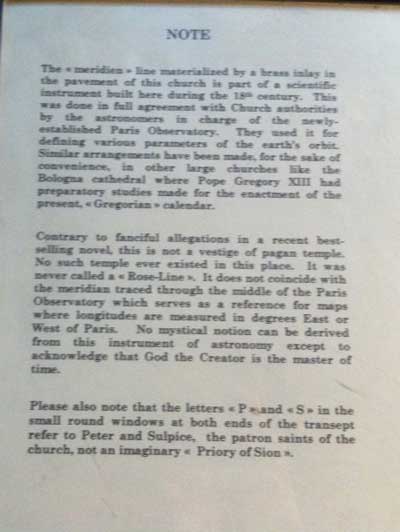 Putting the subject matter and your opinions on this to one side, I have found this book to be a very interesting guide book to Paris and beyond for several reasons:
The Louvre is very popular with visitors all year round but I was living and working in Paris at the time when it came out and the number of visitors to this museum and to the underground shopping mall and museum entrance where the upside down pyramid can be found, was quite simply astonishing. Even if you don't go inside the museum to see the Mona Lisa (Which is MUCH smaller than you would ever imagine), you can still marvel at the Louvre museum itself and the gardens around it.
I also revisited the beautiful Saint Sulpice church in Paris with this book and was rather amused to find this note in the church for visitors to read:
There were still many tourists taking pictures of the 'rose line'.Including me. And yes I looked for the P and the S in the windows and imagined Silas breaking the line to look for the treasure beneath.
Travelling with Dan Brown, with Robert Langdon and all the characters in the book , visiting the Louvre and Saint Sulpice – priceless
Shows you the power of the written word.
Susan