Thriller set on the Isle of Rum – Sleep, Cally Taylor
The remote Scottish island of Rum will haunt your dreams
Out in the middle of nowhere, on a tiny island in the inner hebrides, is the island of Rum. Perfect setting for a retreat, a holiday , a getaway kind of place, somewhere to escape. However, in the hands of Cally Taylor, this place will haunt you and rob you of sleep.
Apt that the island of Rum is the setting as you will need a strong glass of it to calm your nerves having read this thriller!
Seven strangers. Seven secrets. One deadly lie…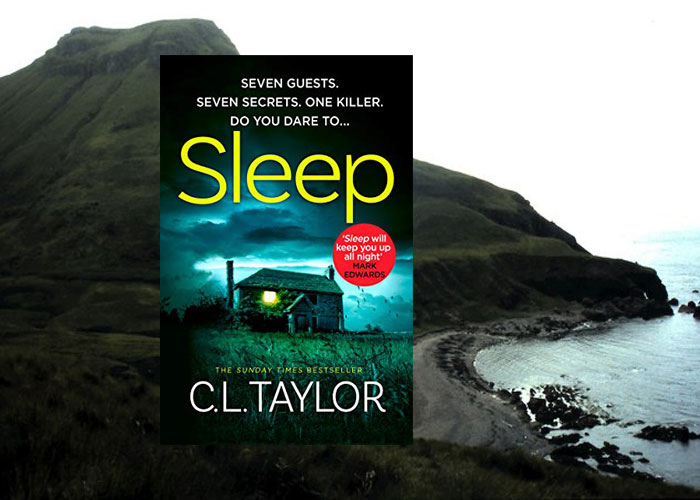 #Bookreview
Susan:@thebooktrailer
Creepy Cally that's what I 'm calling this author now. She really ramps it up in this novel with the claustrophobic hotel and the storm and the strangers thrown together!.
The plot was good from the start – a woman, Anna, wanting to escape the guilt of an accident and the guilt of her friends deaths. So, coming away to a nice island retreat should be nice even if she does have to work, right?
The fear is already there as Anna wants to escape the taunting messages being left around for her to find. Trouble is, they follow her to the most remote island in the world (probably). I've actually been to this island and can remember the sense of isolation and waves crashing onto the rocks and that was in the summer time. So this book took me back there and to the fear of being stranded with only one boat a day to escape. There were aspects to this which made me think of the Agatha Christie novel And Then There Were None. The only hotel was very like the one in The Shining…
A cracking thriller and the sense of place was frightening and unsettling. Plenty of twists and red herrings to enjoy along the way.

BookTrail Boarding Pass: Sleep
Twitter: @callytaylor  Web: /cltaylorauthor.com/