Thriller set in Antarctica – The Split by Sharon Bolton
A split in South Georgia …
A year ago, in desperation, Felicity Lloyd signed up for a lengthy research trip to the remote island of South Georgia.
It was her only way to escape. And Now He's Coming for Her. Never mind she's out in the middle of the Antarctica. Now, when a top author takes you to a remote island, you can expect murder and all kinds of criminal undertakings. The Split is a cracking read so you better buckle up for the ride.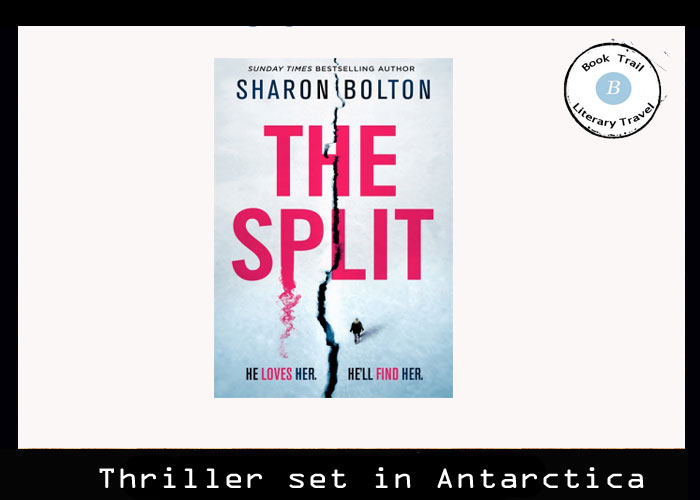 Setting: Remote icy South Georgia in Antarctica

#Bookreview
When a fantastic crime and thriller author takes me to a remote island in her novel, I should be afraid. But all I can think of is what is going to happen and when is the storm going to block everything off?
Well, Sharon Bolton has gone one better in this book and takes her readers to the remote island of South Georgia in the middle of the Antarctica. I'd not read about this in a novel before and was intrigued. All that ice, glaciers, ice fields, holes and it's all miles from anywhere. Good to hide from an ex husband you might think…nope!
The woman trying to escape is Felicity and we soon learn that she has been experiencing some sort of blackout prior to coming to the island. We read about her therapy and her life starts to open up. Very slowly, in the hands of Sharon Bolton, this is delectable.
The location and the blackouts make this a very interesting premise from the off. A lot of what you read about is unknown and not to be trusted. No one can hear you scream as you turn the pages…….
There's little more I can say as this is a book you have to let unravel around you until it grabs you by the neck. It was fascinating to learn about the work of the glaciologist and the beached whaling ship.
But then….we're suddenly in Cambridge where the story flits back and forth to. From the depths of the icy island to a golden academic city is quite the transformation and the back and forth both in time and setting really does work well here. Confusion and a desire to see what happens next pulls and pushes you from one page to the next.
That's if the wild nature and weather doesn't unravel and upset your balance first.
Atop notch thriller from Bolton is this!

BookTrail Boarding Pass: The Split
Twitter:  @AuthorSJBoltor  Web: www.sharonbolton.com/