The Great British BookTrail – Portbello Bookshop
The Portobello Bookshop in Portobello, Edinburgh
The second bookshop on my little mini tour was this gem in Portobello. An hour or so's walk from Princess Street, or you can take the bus and it takes 20 mins…. I opted for the latter as, well, I wanted to save my energy for walking around the bookshop itself.
This is the lovely Portobello Bookshop…..
Little did I know the setting of this one was going to be a lovely surprise. A little village all on its own with a nice beach and an even better chipshop. Did I realise I would buy a book, a bag, find a beach to read it on whilst eating chips that day? What a treat I had in store.
Portobello's picks:
A lovely classic grey from the outside
Huge window and good display
A welcoming book tardis as soon as you walked in.
Pillars
Book nooks with cushions
and……
a book teepee…..
Just look at this tardis:
Time travelling via books
I bet you can time travel in this thing. There was  a bookseller there when I walked in and then she disappeared. Where did she go? Later there was someone else there. Then the first woman came back. A mystery indeed. Locked in a little glass book cage. When I went to buy a book, I thought of those machines at the fairground like in the movie Big. Remember when the boy goes and makes a wish, offers a coin and then gets their wish granted? Well, I looked around a bookmark and then the bookseller said ' I looked like the kind of reader who would appreciate a bookmark'. I liked her immediately. My wish had been granted.
As I travelled through the store…..the books were smiling upon me….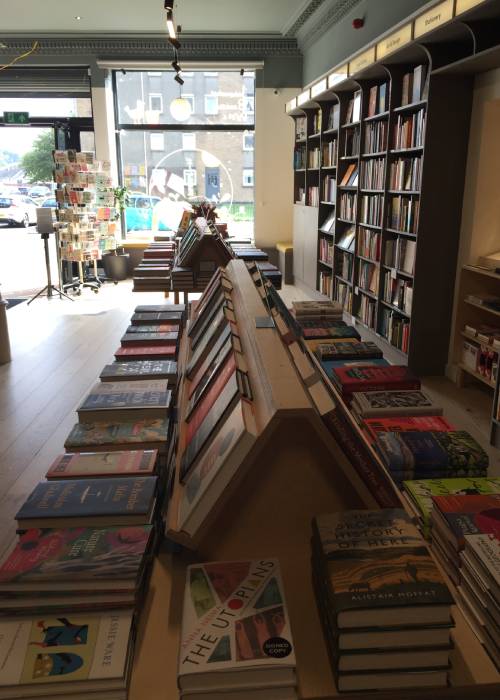 Then there was this…………….
A book nook with cushions with a view of all the books on the other side……………..I couldn't stop staring!
Books in their natural habitat
Dimly lit shelves with tiny recommendations all around….shelves at every angle with treats galore……………
Then I peeked into the children's section. If I had been enchanted by the book nooks earlier, I now realised that this book teepee, an ornate book fort if you will, was the real prize:
I tried to settle in with a few books with the intention of getting locked in so I had to stay the night. Pity the girl in the book travel machine at the front of the shop would have found me. I dreamt of this fort that night. This is my life's goal.
I left with another book and another tote bag. Feeling a little lost and bereft I found a nearby beach and sat there to read. Great chipping added to the overall Portobello afternoon.  Seaside reading – well there's nothing like it.
Thanks Portobello for a lovely afternoon filled with books, bookchat and an invitation to come back and see the books again soon.
Susan