The Dying Day set in Mumbai by Vaseem Khan
The Dying Day set in Mumbai/Bombay
From the start this was like going on a literary treasure hunt. A missing manuscript goes missing  from a crypt, a scholar disappears at the same time. Left behind is a book with a clue scribbled inside. Then, a body is found on the train tracks with another clue….Well you had me at first literary clue Mr Khan. The novel just got better and better from then on in….
Setting: Mumbai and the world of Dante

#Bookreview
Head to Mumbai for some criminal investigations
A real literary treasure hunt!
This is a  novel which quite cleverly mixes fact and fiction to a very good effect. A manuscript of Dante's famous book has gone missing. This is important as there has been tension between Italy and India regarding this for years so its loss is not just financial but political and of course, all about honour. We are in an India that has recently experienced partition so Bombay is a divided city in more ways than one.
Female police officer Persis is stuck in between two worlds and not just in a political sense. She is the only female police officer in India and so she has more to prove than most. Not least to her aunt who, in keeping with the literary links, seems to have read Pride and Prejudice a few too many times.  It is not a universally acknowledged truth that all women are in need of a good wife.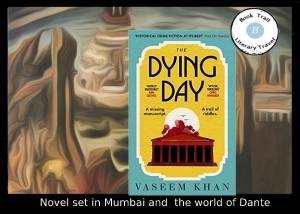 The city and the politics of the time and place make this novel what it is. There's so much careful research and casual observations drip-fed throughout and this makes the novel shine. Bombay's post partition growth spurt for example means that the infrastructure of the city is lacking. On top of that, there is instability in the country. With Nehru's political reforms and the British withdrawal, the city is a hotbed of instability.
Back to the literary leaning of this novel for that is what really griped me. Ancient texts in Greek, a missing Dante manuscript and a novel in a hidden bookcase with another clue…..My oh my Vaseem. I was totally engrossed in this novel from start to finish!
A deliciously good literary treasure hunt and mystery.

Twitter:  @vaseemkhanuk    Facebook:   www.facebook.com/VaseemKhanOfficial/        Web:   vaseemkhan.com/