The Dying Day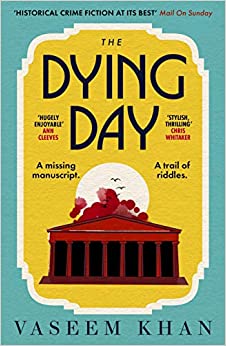 Why a Booktrail?
1950: A priceless manuscript disappears in Bombay
What you need to know before your trail
For over a century, one of the world's great treasures, a six-hundred-year-old copy of Dante's The Divine Comedy, has been safely housed at Bombay's Asiatic Society. But when it vanishes, together with the man charged with its care, British scholar and war hero, John Healy, the case lands on Inspector Persis Wadia's desk.
Uncovering a series of complex riddles written in verse, Persis – together with English forensic scientist Archie Blackfinch – is soon on the trail. But then they discover the first body.
As the death toll mounts it becomes evident that someone else is also pursuing this priceless artefact and will stop at nothing to possess it . . .
Harking back to an era of darkness, this second thriller in the Malabar House series pits Persis, once again, against her peers, a changing India, and an evil of limitless intent.
Travel Guide
Welcome to Vaseem Khan's Mumbai
The Literary Society where the Dante manuscript really was kept
The society is more than  the sum of its parts, it is in this building that Queen Victoria's 1858 proclamation took place, abolishing the East India company and transferring administration of the country to the crown. It is here that a portion of Gandhi's ashes were kept so that his devotees could pay their last respects. The Asiatic society is in and of itself, living history.
Victoria and Albert museum
The V and A is the city's oldest museum, established to commemorate the transfer of power from the East India Company to the British Crown and to serve as a expression of the loyalty of Bombay's merchants to the new Raj.
Booktrailer Review
Great read and highly recommended
BookTrail Boarding Pass: The Dying Day
Destination/location: Bombay. Mumbai   Author/guide: Vaseem Khan   Departure Time: 1950s
Back to Results