Reading Poland at the London Book Fair
Poland this year was the focus country at the London Book Fair and the literary showcase which came to town was epic, exciting and new….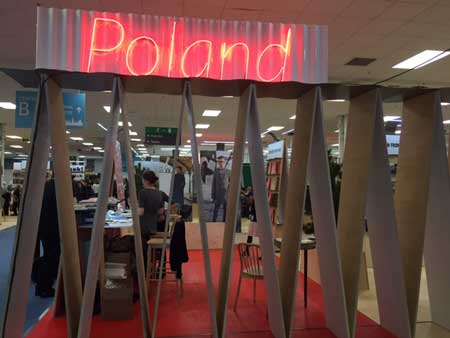 It was a very impressive stand – a kind of literary oasis with tree trunk tables and apples galore…it made me think of the forest in Hansel and Gretel for some reason…what would happen if I ventured inside? I happened to stay a while, attracted by the forest's delights – and that was before I found any of the books!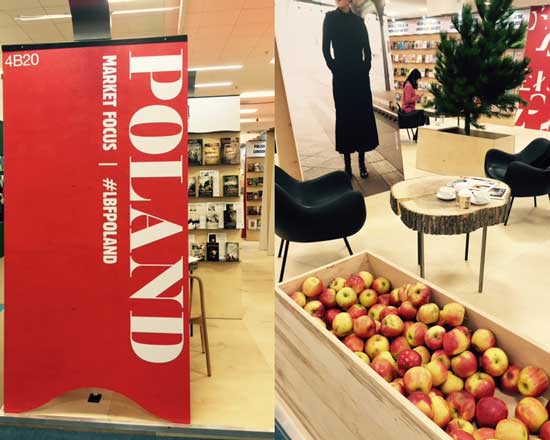 It wasn't all eating apples and pretending I'd wandered into the Narnia forest however – this was THE place to find out all about Polish fiction – I can't say I've read a lot myself – books set in Poland yes, but not many by Polish authors. There are many many translated and many more not, but this intrigued me. The Market Focus is a great idea for getting a country's literature in the spotlight and I was glad to see the many talks, author appearances and readings from the stand.
Location: Olsztyn
Author/Guide: Zygmunt Miloszewski
This was a well talked about title at the fair – What drives a sane man to kill? Famous prosecutor Teodor Szacki investigates a skeleton discovered at a construction site in the idyllic Polish city of Olsztyn. This grabbed for the unique location – Olsztyn is a part of Poland which has a complex history, pre-war the city was part of Germany and its complicated heritage has impacted on its architecture and culture. A discovery of a recent burial really stoked my interest….
Location: Krajanow, Wambierzyce
Author/Guide: Olga Tokarczuk
1940s: A town of three identities is bound to hold some secrets….The novel is largely set in the author's hometown which she uses to illustrate a story of the past and the people of Krajanow
So, this week is all about getting the many books I collected during my visit on the map- Many thanks to the lovely Polish authors I met and those very knowledgeable and passionate people at the stand. The map which started last week before the fair, is now growing…..
Enjoy your literary travels in Poland and I would be more than happy to add any you lovely lot suggest!