Package Deals – A literary tour good enough to eat!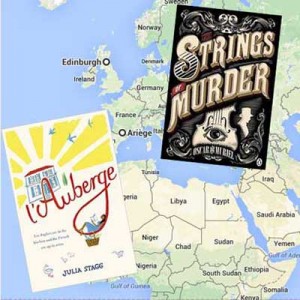 Travelling can be both hungry and thirsty work, so what better way to indulge your cravings and discover a new cuisine along the way than by picking up a book and delving into its delectable aromas and flavours…
Where in the world do you eat? Where do you go to tickle your literary taste buds? Have you ever picked up a book and wanted to sit down at the table with some of the characters? Maybe drink tea with the mad hatter from Alice in Wonderland or try the flash fancy dining on the lawn as seen in The Great Gatsby? Whatever your tastes, a tour in books can be useful as a guide to exploring new delectable destinations as well as keeping a check on your waistline…well until you go in search of the actual food..
We travel here to India, France and Edinburgh but this is only a bitesize tour of a much bigger feast just waiting to be discovered…..
FOOD – Street food in Mumbai
The Unexpected Inheritance of Inspector Chopra – Mumbai (Bombay) – India – Vaseem Khan
Inspector Ashwin Chopra  is due to retire this very day from the Mumbai police department so he's not expecting to have any more cases to solve before he goes. But then two mysteries fall right into his lap – luckily not literarily as one of them is a baby elephant. The first mystery however is a drowned little boy whose death is suspicious and who no one seems bothered to solve.
But Chopra is not having any of it, and last day or not, he's going to get to the bottom of it. So he trawls the city of Mumbai looking for clues –  with a baby elephant named Ganesh as his sidekick..
Foodie kicks
This is a  Mumbai which is sweaty, noisy, chaotic, vibrant and teaming with a number of characters and colours. Street food vendors stand on street corner peddaling their wares. The busy, complex aromas of the city are all around, the noise,hustle and bustle of dishes being prepared and tastebuds salvating in readiness for a meal to remember. Chopra his food as a ritual since he has an aversion to ginger – it's these little quirks that made me picture the man as if he was stood right beside me.
FOOD: Haggis in Edinburgh
The Strings of Murder – Edinburgh 1888 – Oscar de Muriel
Edinburgh, 1888. A violinist is murdered in his home. In his locked practice room whilst the sound of several musicians played in the night. Who could have got in the room whilst it was locked? And who would want to kill a violinist?
Meanwhile in London, the city is awash with panic over the Ripper murders and so Scotland Yard sends Inspector Ian Frey to investigate under the cover of a fake department specializing in the occult. However, Frey's new boss, Detective 'Nine-Nails' McGray, actually believes in such supernatural nonsense.
Just who or what is crawling the dark dank streets of Edinburgh?
Foodie moments
Whoah – this side of Edinburgh is not one you'll have seen before. It's not the bustling bright city it is now but one of darkness, the occult, violins played by the devil, a devils sonata and if Inspector Frey is to be believed, bad bad food and even worse weather…
The policeman from the south has trouble finding decent food to eat in the city he says but eventually is told he should try the haggis.Well, if haven't tried it yet, read this book and then taste it. Go on…
FOOD: Cassoulet from a French village
The Fogas Chronicles by Julia Stagg
It's off to France now to meet Julia Stagg, who brings food into all of her French set novels…
L'Auberge
Set in Fogas, a fictional village  in the French pyrenees, this is a story of an English couple, Paul and Lorna, moving in to a rural French community and trying as best they can to fit in. Fogas is a village you want to happen upon and stay for a while such is its charm despite it being more rural than rural itself –
There was no shop, no bar and even La Poste had been sensible and placed the commune post office in La Riviere. So apart from the cluster of houses which formed the village and the old communal washbasin with its continually running tap, Fogas was simply the base for the town hall
Foodie moments
In the first book , L'Auberge…
The young English couple have just bought the local Auberge, much to the horror of the locals who fear the English and their cooking in particular.
"The Auberge has been sold to an outsider'
'But why is a given that the restaurant will fail just because they are foreigners?' demanded Christian
'Because,' Pascal relied in his lofty manner, 'the new owners are English!"
Then the adventures continue with The French Postmistress, the Parisians return and a Fete to remember….
A French village offers baguettes, cheese and good old fashioned local grub. Ah the antics of these people will make you laugh but it's the local cuisine, the French way of eating and the mountain setting which will have you salvating over French fayre. The books all feature the famous French dish of Cassoulet and ah you just have to try it! Julia Stagg the author used to work in a French auberge and so her observations on the food and drink of a French village are spot on.
So whether you are hungry for food in Mumbai, want to try some haggis in Scotland or eat the best Cassoulet this side of the Pyrenees, just pick up one of these three books and tuck in.
Bon appetit!