New York set novel – City of Girls – Elizabeth Gilbert
New York City is the City of Girls
This is the new novel from the author of Eat, Pray, Love. A woman not afraid to cast off expectations and social mores and leap out into the unknown. Here, in the City of Girls, she does it all again with a fictional character representing a similar struggle.
Set in the New York City theatre world during the 1940s, an older woman as she looks back on her youth with both pleasure and regret (but mostly pleasure). City that never sleeps? Not surprised given the themes of female sexuality and promiscuity, as well as the idiosyncrasies of true love….
"Life is both fleeting and dangerous, and there is no point in denying yourself pleasure, or being anything other than what you are."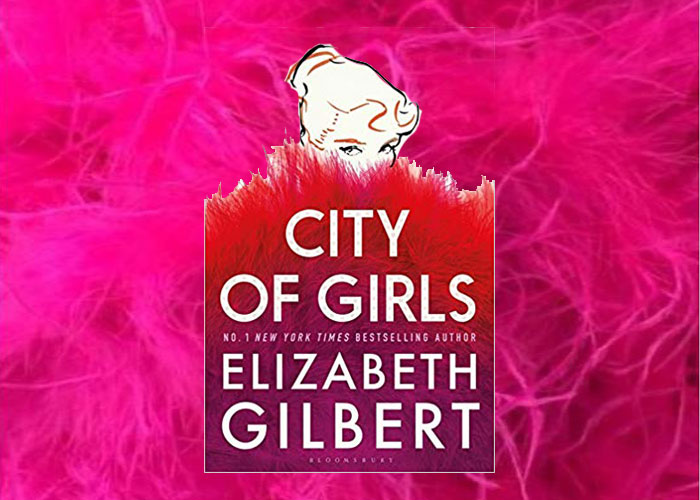 #Bookreview
Moving to New York sounds like fun for a 19 year old girl in the 1940s, but when it's in the home of your aunt Peggy, it might not be the blast you hope it's going to be. Vivian has failed her education and so has been carted off to the care of her aunt for the time being. Not the brightest of moves however as Aunt Peggy has a history of dancing, Broadway, showgirls and all that jazz. Great for Vivian though as we shall soon see.
And isn't it the damnedest thing to be in the city where Broadway is the playground and the dreamlike mirage for young people everywhere? A city that doesn't sleep? Well those who live there sleep plenty – with a new person every night! The frills and spills of a time gone by, a city grasped in the music and passions of its day. And this is where the writing gets clever – the turns of phrase, the delightful asides create as much an atmosphere as the city itself.
This is quite the view and immersion into the city and all it has to offer. I felt I should be reading it, with a feather bower wrapped around my shoulders and a cocktail in my hand. In reality, I had a cup of tea and a cardigan but I still felt fabulous darling. That's what this book does to you.
Tempting nightlife..
It's also a book that tempts and tempts some more. Vivian explores the nightlife shall we say and gets under the covers of the city as well as its skin. She's still got time to use her sewing skills to help make the costumes and flouncy dresses at the decadent sounding Lily Playhouse. I SO wanted to take my feather bower and head inside dancing as I did so.
There's more to this novel than a erotic stage play and dramatic jazz hands however. War is coming and the dark clouds soon gather…The novel really shows the contrast between freedom and lack of it, of an era rushing headlong into something it can't prepare for. This is a story about a city on the edge, dancing on that edge, and then plunging head first into the unsuspecting audience below.
The New York stage is very different at the end to what it was when it opened at the start of the novel. The curtain goes down and you are left thinking, wanting and needing time to understand the full story of what you have just witnessed.
Vivian has been recounting her story as a good narrator should, she leaves you wanting more at the end.

Twitter: @gilbertliz Web: www.elizabethgilbert.com/