Mystery of Henri Pick set in Crozon, France – David Foekinos
The Library of Rejected Books – David Foekinos
One in a while, there's a book that comes along that surprises you, delights you and makes you want everyone to read it so you can discuss it with them. This is that book for me. What's it about? Well, someone in a village in France has sent a manuscript of a novel to a so-called 'Library of Rejected Books'. Only trouble is, it's been published and become so popular that everyone wants a piece of the action. Two people try to track the author down only to find out that he's now deceased but was a humble pizzeria owner.
Well, that proves to be a problem….a man with seemingly no literary talent (well, until this book) – has suddenly written a masterpiece?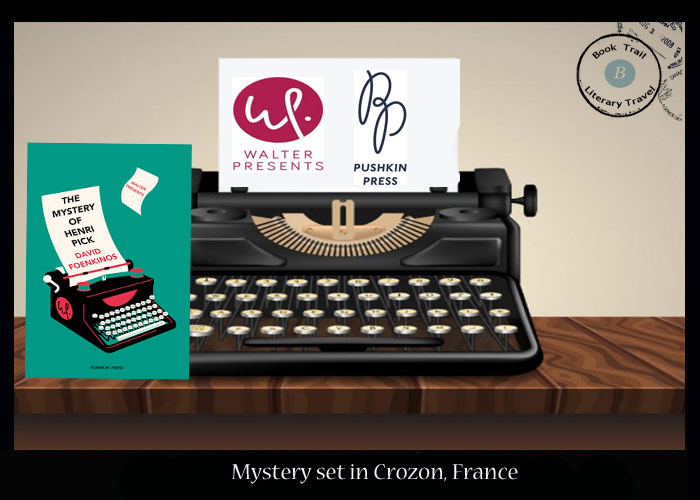 Setting: A small French village…and the world of books!

#Bookreview
This book made me smile in so many ways. It's a twisty-turny mystery set in a lovely French village in a place called the 'Library of Rejected Books'. At first sight it reminded me of the Cemetery of Forgotten Books, but this is more of a home for rejected manuscripts and writers. Apparently there's a real one in North America too, and the idea is lifted from the words of Richard Brautigan)
A now deceased pizzeria owner from a remote French village has apparently written something placed in this library which has now become a best-selling book.  A publicist and her boyfriend who is a writer himself albeit unsuccessful, takes on this mystery and they vow to get to the bottom of it. They visit the village in question, the place where all manuscripts are kept and even interview the man's wife and friends. There's a literary critic who comes into the midst and everyone wants to know who wrote this book and how it has become so successful.
The book is about the Russian poet Pushkin and the end of a romance through one heart-wrenching emotion to another. There's something in it that speaks to everyone who reads it.
I felt like a literary Sherlock Holmes reading this. As the investigation unfolds, you are right there with the characters and have the same thoughts and ideas as they do. As more and more people come into the picture and mystery, the threads of the puzzle weave and move around. It's a true mystery and an intriguing one at that. Makes a difference reading about a mystery writer than a murder or similar.
I want to move to Crozon immediately. Not only does it sound like a cute little town –  it has a library which it values to the point of them funding the investigation. The people who are concerned about this mystery on their doorstep is never ending and it's a delight to see.
The world of books is evoked in style  –  book sellers, editors, writers, the way books are marketed and sold, how PR works, word of mouth etc is fascinating. How does an unpublished manuscript ever see the light of day? And does it matter who wrote it – even a pizza worker from a small village? The book about love, finding it, losing it. its about relationships and how people change. And that's just the start.
Lots of insights in this book and it would make a great book club read. The ending – well that was just poetry in itself. A mystery that delivers and it's a literary delight!
To be enjoyed with a cup of caramel tea.

The first book in the Walter Presents /Pushkin Press library. A fast-paced comic mystery enriched by a deep love of books