The Mystery of Henri Pick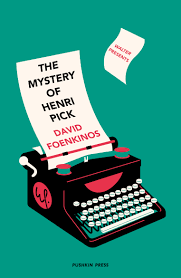 Why a Booktrail?
2000s:  a fast-paced comic mystery enriched by a deep love of books
What you need to know before your trail
In the small town of Crozon in Brittany, a library houses manuscripts that were rejected for publication: the faded dreams of aspiring writers. Visiting while on holiday, young editor Delphine Despero is thrilled to discover a novel so powerful that she feels compelled to bring it back to Paris to publish it.
The book is a sensation, prompting fevered interest in the identity of its author – apparently one Henri Pick, a now-deceased pizza chef from Crozon. Sceptics cry that the whole thing is a hoax: how could this man have written such a masterpiece? An obstinate journalist, Jean-Michel Rouche, heads to Brittany to investigate.
By turns farcical and moving, The Mystery of Henri Pick is a fast-paced comic mystery enriched by a deep love of books – and of the authors who write them.
Travel Guide
Travel to the glorious book-loving town of  Crozon, Brittany
Life changes forever when a manuscript is found in an obscure Breton village library. The author is Henri Pick, now deceased, who was a local café owner. Could such a man really have written such a novel? He'd only ever been known to attempt to write a letter to his daughter and even that wasn't very well written.
Paris
The manuscript finds its way to Paris. There, it's not before long that a leading publisher decides to publish the novel. It becomes an immediate success and so now, everyone wants to know where it came from and who wrote it.
A literary critic named Rouche is more determined than most to find out the truth. Crozon is a small town and not where you would expect an MS of this calibre to come from. There is snobbery from Paris and in literary circles and this soon becomes a mystery with a life of its own. How can a small town in the middle of nowhere, at the edge of the world in Brittany, appear and rise superior over the Paris scene?
Crozon does have a bookshop and library in real life. The Brautigan library mentioned in the novel is located in Vancouver
, now fallen upon hard times, cannot accept the story of the book's "discovery" and undertakes a search to resolve the mystery. While this is the central plot, Foenkinos cleverly weaves a fabric of engaging characters and enticing subplots, sometimes leading the reader down false trails. I found "Le mystère Henri Pick" a delight to read and a clever put down of the way the story behind a literary work can draw more
BookTrail Boarding Pass: The Mystery of Henri Pick
Destination/location: Crozon   Author/guide:  David Foenkinos Departure Time: 2000s
Back to Results