Memoir set in Colorado, Running with Sherman by Christopher McDougall
Burros, bravery and more in Colorado's national sport
Memoir set in Colorado, Running with Sherman by Christopher McDougall – This is a fascinating story – Barefoot running guru Christopher McDougall takes in a neglected donkey, with an aim of getting Sherman back to reasonable health. But Sherman is ill-tempered, obstinate and uncooperative – and it's clear his poor treatment has made him deeply fearful of humans. What will happen next and will Christopher ever be able to bring out the best in Sherman?
Sherman is such a character and this book is going to make you smile, laugh and really see how important and sturdy, intelligent creatures, donkeys really are….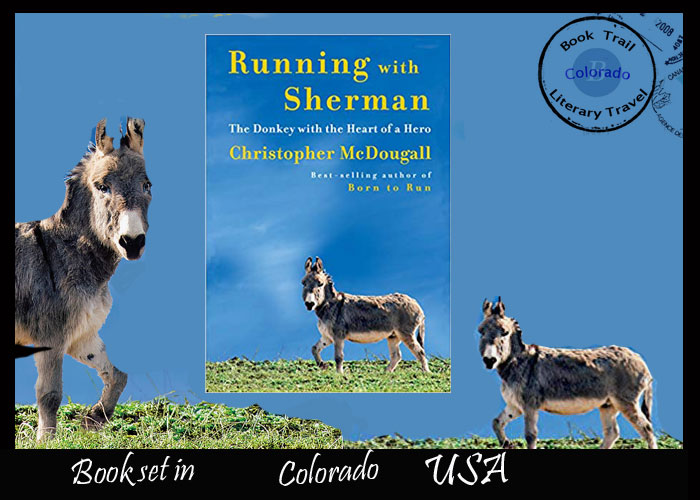 #Bookreview
Donkeys are one of my favourite animals. They're always so soft and unassuming. Gentle and kind. They're not as graceful as their horse relatives, not as majestic as other animals, yet their faces, their gentle nature makes me warm to them and always want to stroke them when I see them.
I loved donkey rides on the beach as a child and now feel guilty for this feeling it was cruel and unkind, so when I got to read about them being in races, I was in two minds. Was this a good thing?
This book is not just about donkey racing (Burro racing is a thing and is the national sport of Colorado, who knew?) but so much more. It's about a man whose love for a rescue donkey knows no bounds. Chris and his wife Mika are the couple who take in the donkey named Sherman when it's basically at death's door. He is horrified to learn of how it has been kept and not looked after and so he brings it back to life effectively and gives it, and him, a purpose by joining in a burro race. Ten months of preparation for the biggest challenge of their lives!
I felt this was so much about the resilience of both beast and man. Boy, I always thought that donkeys were intelligent creatures but there are some real heartwarming and surprising moments here. There are also plenty of funny stories and self-deprecating humour here and you can't help but warm to the furry and not so furry duo. I also learned a lot about Burro racing, the sport of ultra running and the challenges of the Colorado landscape. There's even side stories of Amish life and wait until you get to attend the Leadville 100 race! I'm not sporty, but I loved it.
Next time I see a donkey, I'm going to look into its eyes and smile at my new found respect for these furry personalities.

Twitter: @ChrisMcDougall  Web: www.chrismcdougall.com/