Learning Swedish with Åke Edwardson
Swedish crime thrillers are very popular in the UK at the moment and their translation into English has opened up a new genre of crime writing in the English speaking world.
Swedish crime drama is colder, darker and a lot more graphic than most English novels of this type and I discovered a great many writers whilst practically living in my local bookstore in Stockholm. Infact a lot of my early vocabulary was along the lines of 'blood' 'killed in her bed whilst she slept' etc.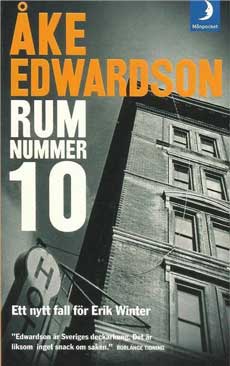 Well it's a lot more interesting than a boring grammar book and believe me with the vivid mental images these books conjure, there is NO chance of forgetting words and new vocabulary.
No sticking post it notes on the fridge for me!
You may have heard of Camilla Lackberg and Stieg Larsson but one particular favourite of mine is Åke Edwardson. A book I have just reread is : Room Number 10. Straight away I remember I chose the book on the title alone. How simple and effective is that? What about the room? What's in there? I wondered. It is part of the Detective Winters series of novels and I was keen to read more…
Room Number 10
A young woman is found hanged  in room number 10 of a hotel in Gothenburg.Detective Winters is called to the case. He soon realises that he's been here before – eighteen years earlier to investigate his first case – the disappearance of another young woman. The case was never solved. Now, finding it strange that he finds himself back in the exact same room,  he has two cases on his mind and he wonders just what he missed the first time round…….
Åke Edwardson was previously a lecturer in journalism at the university in Gothenburg – and this city provides the back drop novels are set.
Only two of his many novels so far have been translated into English I believe, but I'm hoping he makes it to the English market soon as I think he is, as yet, an undiscovered treasure.